To any project manager out there, it might come across as very weird. Most of them have no idea that flowchart software and diagramming tools exist. The business planning software and project management software do all the job. Hence one is really that bothered about tools for flowcharts and diagrams to be honest. 
All one focuses on is the execution and outcomes of the usage of the software for business planning and management. However, planning seems to be the most crucial part of any business setup. 
The complex planning of any business needs to be conclusive and comprehensive for better remembrance and understanding. This is where the flowchart software and diagramming tools seem to do the job the best. This article digs into 10 of the best flowchart software and diagramming tools that one needs to get a hand at for eliciting better response at business planning and project management.
An insight into flowchart software and diagramming tools
Making flowcharts and diagrams during the planning stage is something that cannot be easily pulled off. It is impossible to modify image editors, presentation software, or word processors into diagramming apps or flowcharts. Sometimes it is worth investing in good tools for getting the jobs done with ease. Diagramming tools allow the creation of organized charts, Venn diagrams, flowcharts, flow plans, evacuation maps, and so on.
Features of a good flowchart software and diagramming tools
Templates – Every diagramming software comes with templates, a layout essential for visual enhancement. Unlike the previously known vector software, diagramming tools are available with built-in systems that allow the diagrams to be such that it can be memorized properly. Hence the diagrams are purposefully built in that way.
Objects – After the layout, the objects must be present on the template being used. The objects are nothing pieces of content that may either be present in the template or custom made accordingly. Customization allows the addition of objects when uploading the images from the device.
Collaboration – Sometimes, one needs more than one person to edit and make the presentations more appealing. Flowchart software and diagramming tools that offer an effortless collaboration of creators tend to stand out the most as software tools aiding to the needs of the users.
The cost of cheap flowchart software and diagramming tools are usually free. However, the freemium and completely paid tools can range up to $200 per year.
Let's discuss some of the top flowchart software and diagramming tools trusted by many project managers worldwide.
1. Lucidchart
This flowchart software and diagram software is best known for collaboration. Based on the web, this flowchart program founded by Karl Sun in beta in 2008, was later released in 2010. It is a company based in Utah. It allows collaboration and integration of organisations through visual media in real-time. In 2017, This diagram software crossed 100 million users.
The flexible interface offers a wide range of shape variations, as well as varied flowcharts, software mock-ups, etc. The interface has a traditional menu allowing easy navigation throughout the software. It has the capability of importing files from rival flowchart software out there, which is greater than any of the ones mentioned later. Besides, it has the capacity of exporting pdfs, images, etc.
A unique feature of this software is that it can export files and required documents to Microsoft Visio as well. As a result, this diagram software stands out to be the most flexible and fitting for the existing workflow. It is much like Google Docs that allows necessary editing in real-time. Similarly, online collaboration also takes place in real-time, unlike Visio, which does not completely happen in real-time. 
Lucidchart allows creating and saving up to 3 documents for free. The free trials seem to be enough for users who do occasional diagramming using this software. Hence this flowchart software tops the list. The paid version of the software starts at $4,95 per user. The affordable price inclusive of robust features makes this software most wanted by users worldwide.
2. Microsoft Visio
Next on the list is Microsoft Visio. This flowchart software comes to be the biggest competitor to Lucidchart. Microsoft Visio was first developed as a part of the Microsoft family in 2000. Shapewear Corporation founded this vector graphics application in 1992. Microsoft Visio offers the greatest number of templates and shapes than any of the flowchart software mentioned, or this article will be mentioning further on. MS Office's familiar interface makes it easier to create flowcharts, diagrams, and much more in no time and with greater ease.
Aside from the creation of varieties of flowcharts, it stands out because of the capability of automatically sorting flowcharts. What makes most users choose Lucidchart over Microsoft Visio is its price point. Microsoft Visio costs nearly twice or four times the price of any other flowchart software and diagramming tool in the market. The Windows version is comparatively costlier compared to the version based on the web. For a one time purchase of this app, the Standard version costs $250, whereas the Professional one costs up to $480 per user. 
Don't Miss – Best Microsoft Visio Alternatives for Creating Flowcharts and Diagrams
3. Draw.io
Draw.io can be set aside from the rest of the flowchart software and diagram software. One of the reasons being its affordability that we will come to in some time. Gaundez Adler founded this app in September of 2016. 
This is the best flowchart maker and diagram software for collaborating with business project management software like Confluence and JIRA. It is a browser-hosted software that provides the easy and intuitive building of flowcharts online. 
The similarity of the user interface to Microsoft office online helps people to navigate through the app with greater ease. The optional dark theme, clearly defined grids for arranging objects and robust automatic arranging options are worth checking out.
Just like Lucidchart, this flowchart software and the diagramming tool can import files from Visio, Lucidchart as well as export images, vector files in any format of choice. Files storage may be locally on the computer or PC. It may also be present in cloud storage like Google Drive and OneDrive.
This flowchart software and the diagramming tool offer offline versions as well. It may be Windows, Linux, Mac OS. This makes the work done just available on your device, instead of drive.
This app might first come across as clunky. It gets handy over time. However, comparatively smaller the shapes and template flowcharts are present. It is best for small businesses and new start-ups, who occasionally need to make flowcharts and diagrams for their purposes.
Coming to the price point, this flowchart software and diagram software is free and best for personal use. However, it becomes paid once integrated with third parties like Confluence, JIRA, and so on. 
4. Gliffy
Gliffy came into the spotlight in 2005. Ever since it has been known for its little to no fuss feature while sketching and making flowchart, this is easily made by dragging and dropping diagrams. It is another web-based software option that provides varieties of templates to choose from. As a result, completion of Venn diagrams, flowcharts, and other diagrams happens with ease. 
It has time-saving the availability of templates and themes. Besides, this flowchart tool and diagram software tracks and preserves the changes made,  ensuring no important data loss occurs. A feature that stands out for this app is its collaboration with integrated apps like Confluence and JIRA. This offers quick creation of diagrams and flowcharts of choice without the need to enter the homepage of Gliffy that can be confusing at times.
As a type of document-creation software, the toolbars with editing features are easy to work with. As a result, it becomes easier to add the already built-in complex shapes and sizes as and when required. This diagram software requires no sorts of logging to work with. Having an account in Confluence or JIRA is enough to log in to Gliffy. 
Subscription
The paid subscriptions are $7.99 per user a month, which includes diagrams, unlimited access, and 24/7 email support. This is suitable for Personal use. For Teams, the price point is $4.99 per month, billed annually.
This subscription includes all the features included in the personal subscription. Followed by this are a live diagram embedding, Google Drive plugin, private sharing, and connecting tool. 
The pricing of the Enterprise version is available on further contact. It provides all features of Team as well as easy admin controls, centralized security, team management, single sign-on integration, automatic diagram migration. Among the other notable features are customized team onboarding, seamless workflow, and shared online.
5. Edraw
Edraw is a technical diagram software, released in 2019. This is especially remarkable for newbies in the business world. It helps users to create professional-looking diagrams, flowcharts, web designs,  program structures, database diagrams, workflows, and UML diagrams. 
It has diverse themes, fonts, colours, and layouts to choose from. Other than this, it gives real-time previews. Edraw graphics are convertible to Word, Excel, or PowerPoint with one click. The text objects support line spacing, indent, background colour, superscript, and subscript as well. 
Shape text presets allow easy pre-setting of the looks of objects and text. More than 2000 cliparts are available to choose from. Other features include recolouring pictures, light and contrast, and other PNG support.
This tool stands out because of its lightweight features. Yet it has powerful forms, themes, and enhanced effects. It has a flexible interface with a fully organized library of primitives. The examples and tutorials help the users in better functioning of the tool. It allows the diagrams to be realistic and dynamic by exporting and importing tools in real-time, as when required.
Edraw max starts at $99 per user, supported on Windows, Mac, Linux.
6. SmartDraw
Paul Stannard founded SmartDraw in 2017. Based on the web, this flowchart software and diagramming tool aim to create flowcharts for software designs, wireframes, and landscaping pictures. It integrates with MS Word, PowerPoint, G Suite, as well as third party integrations like Confluence and JIRA. It is usable by anyone in the business industry.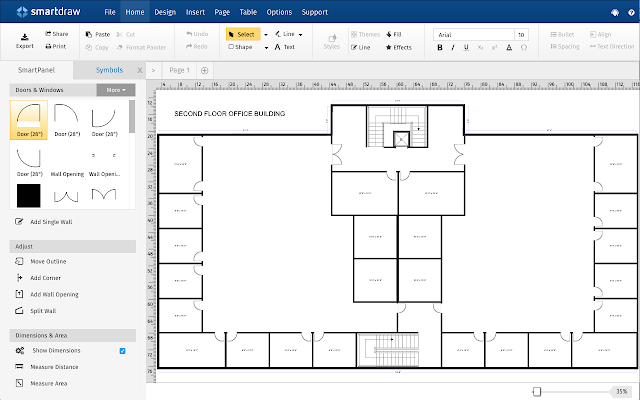 Devices like web browsers, Mac, and PC can connect to this app. The standout features of this tool are its ability to intelligent formatting, platform development, and collaboration with everyone. The paid subscriptions are$9.95 per user per month and $5.95 per month for a team or multiple users. 
7. Cacoo
Masanori Hashimoto, Toshitaka Agata, and Shinsuke Tabata jointly founded Cacoo in 2001. This tool might not be an option that many choose. However, this software holds 7th place in this article because of its quick flowchart making, including custom charts.
Cacoo has a simple interface with a wide range of templates to please the user crowd. The templates, in the form of standard flowcharts, are available as the starting point for the user. Other than this, it has templates for Venn diagrams, mind maps, and calendars making this tool versatile.
This diagram tool is good for creating simple charts and diagrams that are suitable for small businesses. A chart can be made in excel and added to the diagram. However, the visual appeal of the presentation throughout being similar stands out more. This is where the tools come in handy. 
It supports importing from Visio as well as exporting vector files and images to Excel. Powerpoint, and so on. A 14day free trial is available. The paid version begins at $15 per month for a user.
8. OmniGraffle
Ken Case first released OmniGraffle as a part of the Omni Group in 2017. A month later, Omni Standard and Pro 3.0 were announced. This flowchart software and diagramming tool go well mostly for Apple users. The interface is very much similar to the Mac and iPad interface, making the users feel at home. Being a native to the Omni Group and Apple, this software works well offline.
This does not have many shapes and templates available for free. Hence downloading more is an option. It focuses on mockups for software and websites. The process of flowchart formation isn't automated. As a result, one needs to follow the instructions well before starting with this app. The paid version of this app starts at $99.99 with a 14-day free trial.
9. Textografo
In 2016, Textografo came into the business industry, thanks to Julien Andrieu. This tool aims at cutting down on time taken to make a presentation using a flowchart and other diagrams. Usually, one needs to drag and drop images and further navigation in the toolbar to help create a good flowchart. However, that is not the case for Textografo.
Textgrafo is completely based on texts, which makes it all the more unique. Some new learning of terminology and technicalities is required. One needs to learn basic syntax like indents specifying nesting, hashtags specifying shapes. Once the users learn the syntax, it might come across as one of the easiest ways to create flowcharts and diagrams. Subscriptions start at $8 per month for a user.
10. Creately
Founded by Chandika Jayasundara, Creately has been known since 2007. Whether specializing in information technology or working at human resources, this tool is appropriate to collaborate visually with the team. 
The flowchart software allows the users to add members into the group, edit the diagram while being in the group. It also allows the addition of comments wherever required. Additionally, the user can also start a thread of chat while being in the group online.
Paid usage of this tool has several categories. The Personal plan starts at $4.95 per month. This payment is billed annually. It gives access to five collaborators, unlimited folders documents, and high-resolution exports. 
The Team plan is $18 per month. It includes everything included in the personal plan, followed by unlimited collaborators, unlimited video calls, deal-time calls, and management of team members. The Enterprise plan has custom pricing options on demand. Other than the features of the team plan, it provides three managing team members, and more if upgraded to. 
Concluding
A good flowchart software and the diagramming tool must have quick templates, tools that arrange ideas in clear auto-snapping shapes, import and export images, and vector files with ease and clear interfaces.
Listed above are some of the best flowchart software and diagramming tools available in the market. With the details provided, hope this article provides the much-needed knowledge to make the right choice.