At Apple's World Wide Developers Conference 2017 (WWDC 2017), the company has announced iMac Pro 2017 with a new 4K and 5K display desktops. iMac Pro is a lean, mean dream machine.
The creation of iMac Pro packed with various things that are following
Powerful collection of workstation
Class graphics
Intel Xeon Processors
Storage
Memory & I/O
Video editors
3D Animators
Turbo Boost speeds up to 4.5GHz
It has up to 42MB cache memory
iMac Pro has the power and flexibility to balance multicore processing with single-thread performance because it has up to 18-cores processor which are an entirely different creature. The approximate price of iMac Pro is $5000. It will launch in December. It is most powerful Mac ever made and most expensive device. It is a new sleek space-gray aluminum machine.
Specifications  & Features of iMac Pro
iMac Pro has many advanced specifications which cater all needs of the people. We are going to discuss all its specifications that follow as: –
Display

It has 27-inch retina display screen. The resolution of the 5K display is 5120×2880 & the resolution of 4K UHD display is 3840×2160 at 60Hz which supports billions of. But the resolution of the 4K display is 4096×2304 but it supports only million colors. It has wide colors and brightness is 500 nits.
Processor
It has three processors such as 8-Core, 10-Core, and 18-Core.
Memory
The memory capacity of iMac Pro is 32GB of 2666MHZ DDR4 ECC memory.
Graphics
It has Vega GPU which is also called Radeon Pro Vega with up to 11 teraflops of single-precision compute power for real-time 3D rendering and high-quality VR. It consists 56 graphics processor with 8GB of HBM2 memory.
Storage
The storage of iMac Pro is 1TB.
Video Support & Video Camera
It has 1080p FaceTime HD camera which supports a full native resolution on the built-in display. It supports video mirroring modes. It consists the Thunderbolt 3 digital video output. Using adapters, iMac Pro can support VGA, HDMI, DVI and Thunderbolt2 output. Finally, it has also Native DisplayPort output over USB-C.
Audio
It has Stereo speakers with four microphones. The headphone jack is 3.5mm.
Connections & Expansion
It has 1 SDXC card slot with support for UHS-II. It has four USB 3 ports and Thunderbolt 3 (USB-C) ports so you can connect two high-performance RAID arrays and two 5K displays at the same time. Using RJ-45 connector, the Nbase-T Ethernet supports 1GB, 2.5GB, 5GB & 10GB Ethernet.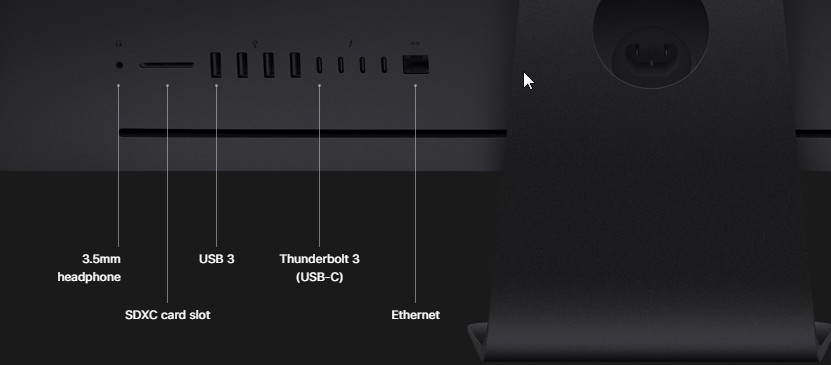 Size & Weight
The Height is 51.6 cm (20.3 inches), the Stand depth is 20.3 cm (8 inches), the weight is 9.7 kg (21.5 pounds) and the width is 65 cm (25.6 inches).
Input
It has Space Grey Magic Keyboard with Numeric Keypad and Mouse 2. You can also add optional Space Grey Magic Trackpad 2 with it.
Electrical & Operating Requirements
It requires 100-240V AC Line voltage. Its frequency is 50Hz to 60Hz with single phase. The Operating temperature must from 10o to 35o C or 50o to 95o The operating altitude is tested up to 5,000 meters.
Wireless
It uses 802.11ac Wi-Fi wireless networking. Its compatibility is IEEE 802.11a/b/g/n. The Bluetooth uses 4.2 wireless technology.
Operating System
The macOS High Sierra Operating System is used for iMac Pro. This operating system comes with new forward-looking technologies, enhanced features and snappier performance to your iMac Pro.
Cooling System
It has a dual centrifugal fan system which allows the machine to deliver up to 80 percent more cooling capacity as compared to other models.
 You may also like :