Forex (foreign exchange), also known as currency trading is the world's largest international financial market which has incredible trade volume. Approximately $7 trillion worth of trade every day happens in Forex. To use this platform sufficiently you will need Forex VPS Hosting.
What is Forex VPS Hosting?
VPS Hosting is a dedicated Virtual Private Server that can be used by the user to take advantage of the platform for many services. For example, you can run a self-hosted website, play high-end games with a low-spec computer and in our case, use it for Forex trading.
With Forex VPS Hosting you will not need to spend a lot of time doing the computing for better investment as it takes care of it with automated algorithmic methods and strategies.
The main benefits are trade automation, global service and most importantly cyber security. We already talked about automation. Forex VPS hosting comes with multiple servers around the globe for great connectivity and worldwide service. So no matter where you are at any given moment, you can be connected to the Forex. You have to keep in mind, even a small downtime can be a big loss for you or your company. On the other hand, these platforms enforce firewalls, authentications, DDoS protection etc to secure your account.
Best Forex VPS Hosting for Uninterrupted Trading
Now as you know the basics of VPS hosting and foreign exchange, let us take a closer look at the best hosting platforms you can use, specifically for our purpose.
1. AccuWeb Hosting
First up on the list, we have AccuWeb Hosting. It offers the latest hardware with the server series Dual Xeon E5, 256 GB DDR3 RAM, RAID setup, and high-speed SSD drives. The platform will be managed by their professionals with full root access. You will also be able to upgrade to higher plans without any problems with IP and that also with a little bit of downtime.
With Windows server OS for free, you can also get an on-demand antivirus program without any extra cost. When it comes to connectivity, they have 15 servers globally, including countries like India, South Africa, Germany and South Korea. With HyperV VPS servers with 1Gbps port connectivity, you will get 24/7 live support and 99.9% uptime. Other than these, you can get back up, server monitoring, integration with third-party tools, and more.
Cost: Their starting plan is $12 per month, which is pretty low.
2. Forex VPS
Next is Forex VPS which is a great platform for serious users. More than 1 million people are using it and they offer 100% up-time. With their basic plan, you will get 2GB RAM, 60GB of super-fast SSD, 1 CPU, and an auto MT4/MT5 start-up. The whole set-up process takes less than 5 minutes and you can also browse the internet or download any applications of your choice.
When it comes to servers, Forex VPS has 5 of them around the globe. Although the number is less, the speed is really fast, so it should not be any problem. You will get an isolated Windows Server 2008 r2 or 2012. If you do not like their service for some reason, there is also a 7-day money-back offer on any purchases.
Cost: The basic plan of Forex VPS is $29.99 per month. If you start trading in July, they are also providing 15% off for new orders.
3. VPS Server
Then we have VPS Server where you can start trading in just a few minutes. The server you will get is based on Windows Server 2012, which is mostly used in this sector and it also supports platforms like MT4 and MT5. Another thing to note is with the standard package, you can also get optimized packages depending on your budget and needs.
They have more than 17 data centers all around the globe in North America, Asia, Europe, and Australia. With a powerful firewall, there are also on-demand options for live backups, flexible billing etc. With their basic package, you will get 2GB RAM, 2 CPUs, 2TB transfers, and 50GB disk space.
Cost: Starting cost of VPS Server is $24.99 per month with a 7-day free trial.
4. FXVM
After that, FXVM is one of the best Forex VPS Hosting you can get. Their control panel is easy to use and you can restart or upgrade resources straight from your browser. With the support of platforms like MT4, TradeStation and NinjaTrader it serves a large number of traders. They have 8 data centres across the United States, Europe and Asia.
Their minimum set-up consists of 1 CPU, 1.5GB RAM, automatic backups, 40GB SSD, Windows Server 2012, and a dedicated IP address. FXFV also offers 100% uptime and 100% data back up at any given moment. Other than from a browser, you can also check the status from your smartphone.
Cost: The basic price of FXVM starts from $19 per month.
5. JavaPipe
One of the cheapest VPS servers on the list is JavaPipe. But that does not mean they have cut corners from the performance. You can trade-in platforms like MT4/MT5 with a super stable network connection. As their services are kernel-based, that means you will get fast performance with stable programs all the time. When it comes to security it comes with 3-tier DDoS protection.
Obviously, they offer top-of-the-line professional support, but just in case you want to get full control, you can start with self-service. The basic plan of JavaPipe comes with 2 CPUs, 2GB of RAM, 25GB SSD, 10Gbps port and other essentials.
Cost: As mentioned earlier, their plans are very cheap, starting from only $12.30 per month.
6. Routerhosting
If JavaPipe still looks costly to you, Routerhosting got your back. Although not 100%, still it comes with very high up-time and ultra-fast speed. Thanks to their dedicated servers all around the important locations, there is no chance of throttling either.
They have more than 15 servers in countries like the USA, Singapore, Netherlands, Germany etc. Other than that, their service comes with full root access, compatibility with cTrader, MT4 and MT5 etc. Their basic plan comes with 2 CPUs, 2 GB of RAM, 30GB SSD/NVMe storage, and a 1 Gbps connection.
Cost: With a 7-day money-back guarantee, their plans start from only $7.95 per month.
7. V2 Cloud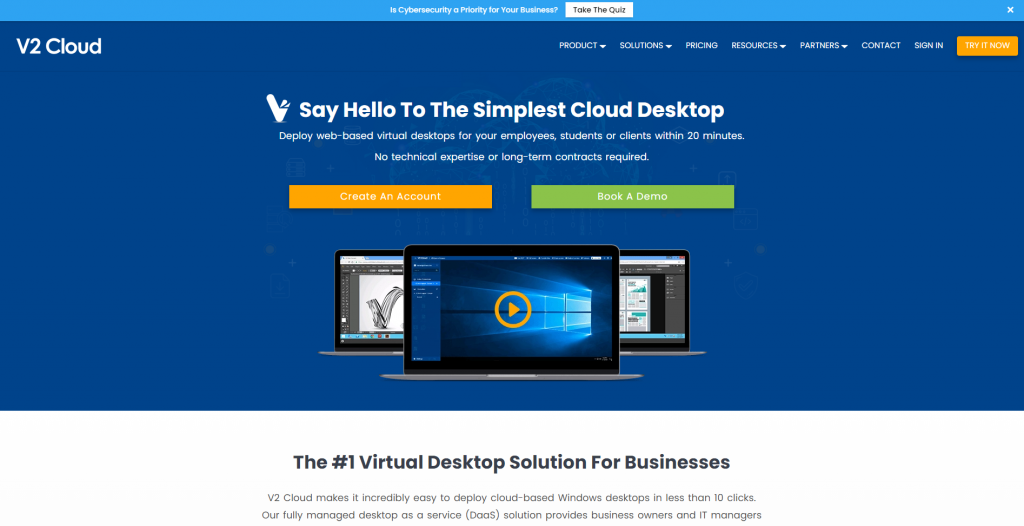 Next on the list is one of the easiest trading cloud desktops, V2 Cloud. They offer a fully managed service, so all you need to worry about is trading. Worldwide they are serving more than 20k users, which is also in the last 5 years. They offer multi-user desktops based on Windows Server OS, which is capable of hosting 250 users on a virtual machine.
All of their servers are protected with Malwarebytes anti-virus and their data centres are scattered around the 7 most busy places worldwide. Their basic plan comes with 50 GB fast NVMe drives, high-speed internet access with unlimited data transfer. If needed you can also share your screen with other users, to help or get help. Although, you can get help directly from them 24/7.
Cost: The basic plan of V2 Cloud starts from $40 per month, per user.
8. HostingStak
Finally, we have HostingStak which is a great Forex VPS hosting solution. Their servers are SSL certificated from both GeoTrust and Symantec. One thing to note, their service is mostly based in Europe, so if you are not living in that region, it will not be helpful for you, mainly for high ping. They offer 99.99% up-time with 24/7 customer service.
When it comes to the specification, you will get a 3 core CPU, 2 GB of RAM, 30 GB SSD or Hard disk and 8 Terabytes of bandwidth. For their servers, they used one of the most used operating system, Windows Server 2012. So if you were using any other service and thinking about switching, you will feel right at home.
Cost: €29.99 is HostingStak's starting price. You can check other plans on their website.
Wrapping Up
So these are all the best 8 Forex VPS hosting platforms you can use to start or build your forex exchange business. In case you need any more information, just go through their website and ask customer support for help. We tried to include platforms with various price points which include most of the features. If you are using any other services, let us know in the comment, that will also help your fellow readers.
Some Hosting related articles