Talking about business in today's modern world, Board management software is mandatory. This software plays a vital role in the decision-making aspect, as well as maintains the interest of stakeholders. Apart from assisting with board meetings. It also helps the board members to stay organized, make decisions on time, and plan out meetings efficiently.

Due to its inbuilt features like pre-meeting preparation tool, powerful analytics, native integration, etc. This software is effortlessly adopted by Startups and big businesses alike. And keeping all these in mind, today I bring you a list of 7 best board management software for startups to big business. Moreover, the list is made with an aim to help you, select competent software for your business. So without further adieu, let's dive in.
What Is Board Management Software?
Board Management Software is a virtual platform where board members can communicate and collaborate on strategic matters. These strategic matters can include drafting policies, taking care of stakeholders, hiring executives, reviewing performances, etc. Furthermore, this tool helps to consolidate organizational workflow and helps in better decision-making.
How can it help your business?
Below are some features through which this board management software helps your business:
Members directory: Information of every board member, such as name and credentials.
Virtual Room: Conducting online discussions and meetings for permission and access controls.
Collaboration tools: Tools such as task assignment, commenting, file version history, and
many more.
Committee Management: promotes smooth communication and organization of board committees such as executive committees, audit committees, etc.
Feedback collection: Equipped with tools to process feedbacks and give suggestions accordingly.
7 Best Board Management Software for Startups to Big Business
Starting off our list, we have Boardable. Built for Non-Profit organizations, Boardable is an easy to use and affordable software. This software focuses on communication within board members, as well as provides intuitive tools for better efficiency and collaborations. Besides that, this board management software allows you to store documents, participate in discussions, and many more.

A cool feature about this app, Boardable allows you to control access over designated documents. Furthermore, agendas can be created with dynamic templates and can be mailed within a click of a button. Last but not the least, this software allows you to integrate tools like Google Sheets, Excel, Outlook. Google Calendar to form a cohesive unit for your operations. And finally along with all these, Boardable comes at a starting package of $79/month.

Next up we have Board Management and this Software is known for being one of the best for governing institutions. Board Management offers a comprehensive, secure, and simple portal helping you to conduct meetings, collaborations, document management, etc. with ease. Furthermore, it provides you with some of the best methods to maintain your organization's sustainability and health.

From collecting attendance to tracking events and meetings this software does it all. Along with all these, Board Management also lets you create tasks, adding documents, and setting a deadline for your staff to work upon. To sum it up, this software is a very good option among other Board Management software and maintaining a firm grip over authority and grip in your business.
One of the most ideal software for Banks, Schools, Hospitals, we have BoardPaq. A high-tech software on its own, BoardPaq offers you an easy-to-use cloud service to facilitate fine communication and collaboration among your board members during meetings. Furthermore, you also get an option to customize your security feature to your needs.

A cost-effective solution to manage and centralize your board information and data, this software is nimble and quite easy to use. Moreover, the intelligent admin centre helps you organize everything in one central place, and lets you split up tasks across groups using multi-admin permissions. And as for us, we believe that this software is best for managing last-minute modifications and update them as needed. Thus, saving your time and tools like reporting, minutes builder, agenda builder, etc.
Following up the list, we have award-winning software among other board management software. BoardPAC is a mighty name in this sector, and it is available in 40 different countries. Apart from having one of the best securities and confidentiality standards, it also supports cross-platform devices like iPads, Android, and windows. Furthermore, one of the selling factors behind BoardPAC is its pre-board facility. This feature allows divisional heads to submit documents easily to board meetings, and also lets you check the status availability of members.

In addition to the former, BoardPAC has some of the great features for company agendas. Not only you can move new agendas which are on review or approval status, you get all kind of actions you can think off. Additionally, BoardPAC allows you to add videos in your agendas for putting out a piece of important information that cannot be described in words or even a recording. Concluding it, this software includes e-signatures, approvals, side-by-side comparison, and many more for better reviews. A true masterpiece in its own right, BoardPAC is a league of its own among other Board Management Software.
Must Read: Essential Benefits of Lone Worker Tracking for Your Business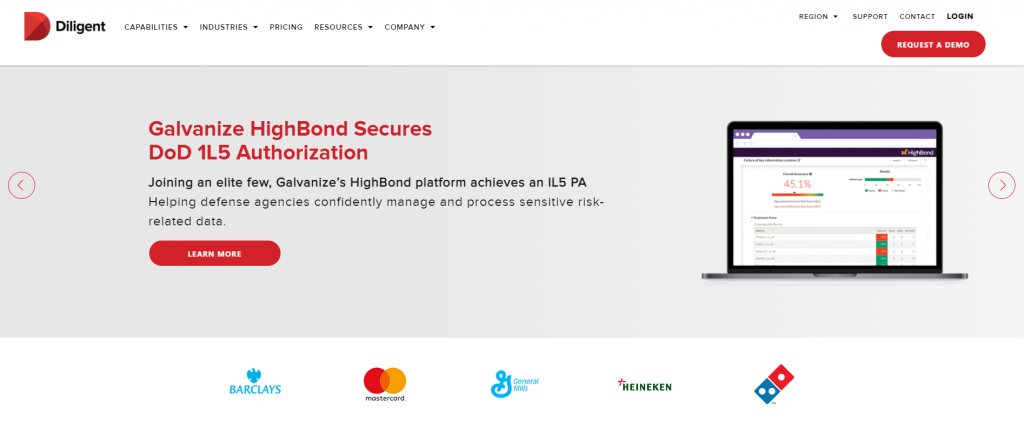 Moving onto the list, we have Diligent. This simple, secure, and efficient software allows you to expand your reach beyond the conference room and typical meeting needs to a safe environment. Furthermore, you can carry outboard evaluations, innovative leadership, and also real-time analytics for your company. Besides that, the software also integrates data from multiple business elements like legal, finance, tax, and treasury in one record system.

With such features and more, Diligent also provides a secure, streamlined and digital meeting process with agenda management, status update, material publication, and many more. Those were some of the most technical features of board management software. And being in more than 90 countries, it is a big name on the list.
Moving closer to the end, next up we have Nasdaq Boardvantage. This software has one of the most amazing user interfaces along with tough and robust security. With this software, you get all the modern features like Collaboration tools, File sharing, minutes management, electronic signature, and many more. Furthermore, it is designed keeping in mind the dynamic needs like a corporate secretary, general counsel, and meeting administration.

At this time, Nasdaq Boardvantage has all the features which can make your operations easier than before. And this Board management software is best for start-up companies and big business organizations alike irrespective of size.
Finally, we will talk about Azeus Convene. Trusted by organizations like Kenya Airways and Fidelity International, this board management software is known for its next level of Governance. Some of the key points of Azeus Convene are like taking live minutes and notes during meetings, tracking attendance and inviting participants at the start of the meeting and etc. Apart from these smart features, it also got features like critical date alerts, multi-company, minutes management, etc.

Keeping all these in mind, Azeus Convene provides you with a board management solution that is simple, smart, and secure. And we would recommend it, as the best for senior leadership teams and corporate boards of government, non-profit organizations. Lastly, the pricing for this software is a request on a quote.
Final Thoughts
So this was the list of 7 Best Board Management software for Start-Ups to Big Business. We know how tough it is to select perfect board management software, so we narrowed it down to 7. The above-listed Board Management software has something special about them and is guaranteed to serve your purpose. Furthermore, we would suggest selecting the one, on the basis of your need rather than the number of features of the software. We have many more articles on other topics which might interest you, so be sure to check them.