Have you ever noticed funny wifi names of your neighbours.
If you will check the network list around you, you will find that network list is full of same brand router name mostly.
This sounds quite boring as all the networks are of the same name. But we have a solution for you.You can easily change the name of your network according to your choice. Some people show their creativity by giving a special name to their Wi-Fi router.
By changing the name of your router(select from the below mentioned funny wifi names) , it will be easy for you to identify your network in among of so many networks. Naming a Wi-Fi router can be funny sometimes too. You can easily select the funniest caption to name your router.  Always think out of the box while naming the Wi-Fi.
By selecting the best name you can easily scare or cheer those who ever tries to connect your Wi-Fi without your permission.
Tips for choosing funny WiFi Names
Whenever you decide to rename your Wi-Fi with a different name, there are some points which we are listing below which will help you to find a unique name:
Always think of something different, so the name you finalized should be different.
Keep your personal information safe; don't try to share your personal information as Wi-Fi name.
Never use your password as Wi-Fi name; it will attract hackers to hack your Wi-Fi.
Try to avoid proactive wife name that will also make your network a clear target for hackers to hack.
If you will follow these tips, you will not face any security risks to worry about .If you think that by hiding your Wi-Fi, you will be able to keep hackers away then don't bother about this because even hidden Wi-Fi name can be found by using packet sniffers and probe requests.
List of top 50 best Funny WiFi Names
Here I will list the best funny WiFi names for your reference. You can select the one you really like or you can keep changing the Wi-Fi name whenever you get bored of the last one.
So here the list goes:
Bill WI, the science Fi.
Feel like Flying.
No Free Internet Here Keep Looking.
Blue M&Ms.
Bill! Bill! Bill! Bill! Bill!
You don't have Wi-Fi but I have.
Router, I hardly know her.
Tell my Wi-Fi love her.
Ouch…sat on my nets.
Guys, please stop Fighting.
No free so get stuffed
Call me may be
It hurts when IP.
Virus Infected Wi-Fi.
One doesn't simply connect to Wi-Fi.
Pretty fly for A Wi-Fi.
Your Wi-Fi is in another castle.
Go home, tourists.
Land of milk and honey.
Feel like Flying.
404 network unavailable.
99 problems but Wi-Fi isn't one.
Super thanks for Asking.
Searching….
New England calms Router.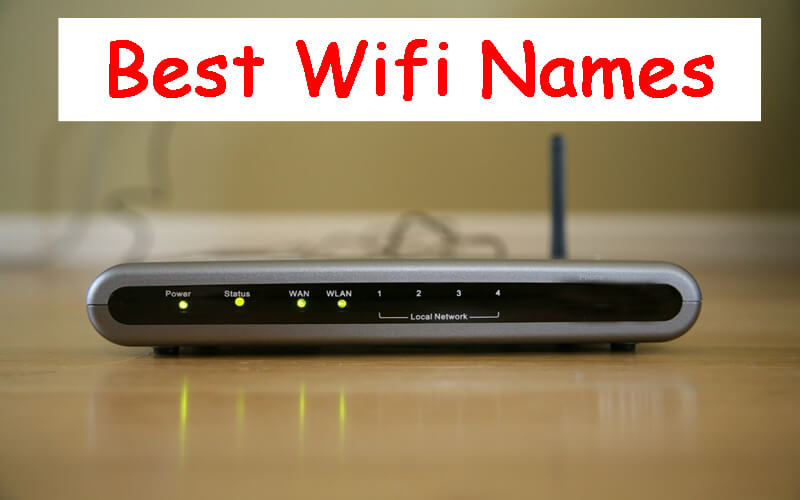 Hogwarts Great Hall WI-Fi.
Sunflower.
Net gear.
Satan rocks my socks.
Don't touch my daughter.
Please connect for Identity Theft.
Help, I am trapped in a Router.
Really, asshole? Curry again?
Stay off my router.
I am the internet, AMA.
Connect and Die.
Prohibited Area
Enter the Dragon's network.
Come and clean up my house.
Pick up your dog shit.
You are my crush.
Covet not thy neighbours' Wi-Fi.
I love you my Wi-Fi.
HA next time lock your router.
Your grammar is more annoying.
Bring beer and women to 40.2.
Get your own Wi-Fi fuck head.
Buy another cup you cheap skate.
No wires, still alive and working.
All your bandwidth belongs to us.
So, above are the funny WiFi names that you can select for your Wi-Fi network. Always aim for memorable name for your network. Never share your personal information like your real name, address, birthdate etc. while naming your Wi-Fi.
Try to select that router name which is funny as well as secure too. So enjoy and chose the best among the all.
You may also like :