There are several best file recovery apps available for free. Some of them are well-known in the market, others not.
This article summarizes the top 16 data recovery tools of 2020. For each of these apps, it mentions its advantages and uses.
In the end, it gives the links to the webpages where the free data recovery software can be downloaded.
16 Best Data Recovery Software
#1. Recuva
Recuva is one of the best free data recovery software. The software can restore the lost data from hard disks, memory cards, DVDs or CDs and external drives. The software supports Windows 10, 8, 8.1, 7, Vista, XP, and older versions of Windows. Check out our article on Recuva for Mac.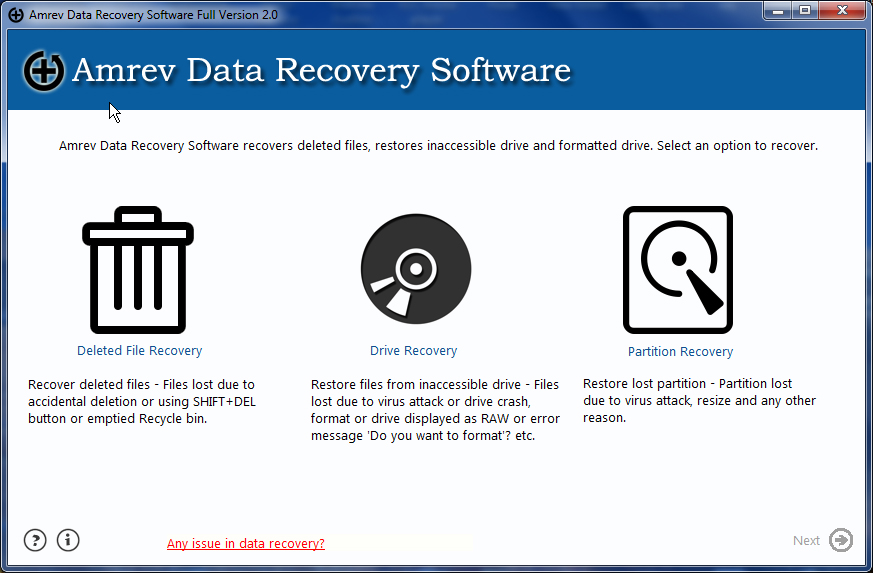 No matter how much you safeguard important files and folders, there are times when things do not go your way. Your OS or Hard Disk might crash, so you should always be prepared for this kind of situations.
Amrev Data Recovery software is one of the best software to recover deleted files from windows and retrieve formatted or lost data as well. Does not matter which hardware you are using, from your Hard disk to Memory Card, even your Music Player, Amrev can handle them all. The software is also easy to use and in a few clicks, you can recover your precious images, videos, emails and others.
How To Use 
First of all, download the software and install it. Do not keep the software in the same drive from which you are trying to recover data. Open and scan the drive and after some time you will be presented with all the lost files you can recover and their condition. Then just select the folder or drive where you want to save those files and that is all.
You can download the software and scan your drive and have an overview of the files for free and then buy if you think that your important files are recoverable. On that note, do not save anything new on the damaged drive before recovering the files, otherwise, your old data might get deleted forever.
Price
Amrev Data Recovery costs $49 for a single user and you will also get technical support for lifetime. If you need it to recover only images there is another version which costs only $25 and the software is available for both Windows and Mac.
#3. TeskDisk
TeskDisk is open source software. Using this amazing tool one can recover or rebuild the boot sector.
The software is a command line tool. It is available for Microsoft Windows, Mac, OS X users. TeskDesk supports Windows 10, 8, 8.1, 7, Vista, XP, and older versions of Windows, Linux, BSD, macOS, and DOS.
#4. Stellar Data Recovery
Stellar helps recover lost data on Windows and Mac devices. The tool can be used to restore files deleted permanently by mistake.
It can scan over different types of storage devices such as memory cards, smartphones, USB devices and hard disks. This software doesn't require any supporting application to run.
#5. Undelete 360
As the same suggests, the data recovery software undeletes files as it runs a scan on selected drives. The usage of the software is not limited to laptop or computers. It can be run on digital cameras, smartphones, and USBs to recover any data.
If you are not sure which file you wish to recover, Undelete 360 can let you preview all deleted files before restoring them.
Unlike other free data recovery software Undelete, 360 can be used to recover MP3, AVI, and GIF files amid other files such as JPEG, DOC, HTML etc.
#6. PhotoRec
PhotoRec is one of the best free data recovery software. The software can scan and recover more than 440 different types of file formats.
PhotoRec supports almost all major platforms such as Microsoft Windows, Linux, Mac OS X etc. Using this, one can custom scan devices.
#7. Pandora Recovery
If you have NTFS and FAT formatted files deleted accidentally, you can recover them using Pandora Recovery data recovery software.
The software has a user-friendly. The software provides a comprehensive view of scanned devices. The software doesn't take much space on the hard disk.

iBeesoft Data Recovery Software complete recovery of deleted files, formatted drive, lost data from hard drive, USB drives, memory cards or another storage device in just three steps. High-efficiency Windows data recovery or Mac data recovery to recover deleted, formatted or lost data from hard drive, SD cards, USB drives, digital camera and more removable drives
#9. Wise Data Recovery
If you are looking for software that can swiftly find lost files and restore them, Wise Data Recovery should be your call. The data recovery software can search for files quickly with a customised search.
It can run over memory cards, hard disk, USB drivers, cameras to find the lost files.
#10. Puran File Recovery
Puran File Recovery runs a deep scan to recover lost data and files on your PC, laptop, and other devices.
The software reads FAT and NTFS files systems to recover any lost data from the recycle bin.
The software can run on Windows 10, 8, 8.1, 7, Vista, XP as well as on an older version of Windows.
#11. PC Inspector File Recovery
Trying to restore the file on the hard disk and local disk? PC Inspector can help recover any lost file and restore it to the hard disk and local disk. The data recovery software can read FAT as well as NTFS formatted files.
It can search for several file formats such as zip, HTML, MP3, PDF, DOC and more. The free data recovery software has a bit complex interface. One may need to consult a specialist to run the software successfully.
#12. Restoration
The Restoration of one of the best data recovery software. It has a simple to use interface, which makes it easy to find and locate any lost data. The software can support platforms other than Windows as well, such as NT and ME.
The best part about the software is that it doesn't require to be downloaded and be run right from the USB drive.
#13. DMDE
The DMDE scan drive for any deleted or lost file. The free data recovery software saves alog of scans avoiding the need for rescanning any devices.
DMDE provides the exact location from where the data is recovered.
#14. Glary Undelete
This easy to use data recovery software can look for any file on the device. The software doesn't require any technical skills to run. In short, it is best suitable for first-time users.
#15. Disk Drill
The Disk drill is both paid and free. The free version of the software allows its users to recover file over a space of 500 MB only. Using this software, one can search for all files, pictures, videos, documents and more.
#16. SoftPerfect File Recovery
The SoftPerfect File Recovery can recover deleted files. However, it cannot retrieve any corrupted or overwritten file.
Those, as mentioned above, are some best data recovery software available for free. You can try any of them for recovering and lost data.