The internet is the most convenient way for customers to purchase airline tickets. Through the internet, users can compare prices on several airlines and can choose airline according to their requirements.
Some airlines allow travelers to print boarding passes at home. People will be able to save a lot of time by checking in online. Changing or canceling a ticket is simple when you have booked an airfare online.
Lets learn how to book Flight online.
Step 1                        
The best time to book a flight is between 112 and 12 days before you depart to get the lowest fare.
Before 54 is the perfect time to booking online tickets.
Step 2
Before booking, you must browse all airfare deal websites such as Airfare Watch Dog. It is very helpful if your trip dates are flexible so you can take advantage of any deals.
Step 3
Search multiple airlines like SkyScanner, Momondo or GoogleFlights and enter your trip information.
The websites will be able to show various flights options for your filled destination and dates so that you can sort by price, airline or length of the trip.
Step 4
When you go to far away locations, many flights will require you to make stopovers at airports along the way.
When you book a ticket, you must keep in mind how many stops you are comfortable making. Also, check how long and what time of day.
Step 5
Once you have chosen the best deal, move to the airline's direct website to book your tickets.
If you book a ticket from aggregators sites, there may be an additional service fee.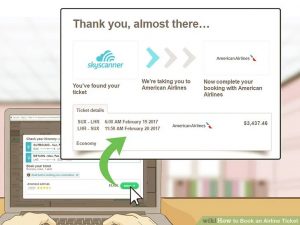 Step 6
Many airlines will allow you to choose your seat at the time of booking.
So you can select your seat according to your requirements such as a window or middle seat etc.
Step 7
Before ending the booking process, some airlines provide conjunction deals in which you book a ticket with a hotel and/or rental car.
You can book these deals at the time of booking or book them separately.
But before taking these deals, you must do research online and ensure your airline is offering a good deal.
Step 8
If you require any extra accommodations for your flight such as a wheelchair so request these things at the time of booking.
You can also book these facilities directly through calling your airline.
Step 9
During the booking process, you may also choose the option of adding insurance.
Read all the instructions and decide whether your flight and trip require insurance or not.
It is a good idea to look into these options and compare costs if you want to add insurance coverage for your trip.
Step 10
Once you decide on the right flight for your upcoming travel, it's time to book your ticket.
Follow website instructions. Every site will ask you to fill in information on items such as your name, a number of travels, frequent flyer number, seat and meal preferences and credit/debit card information in order to book.
You can usually pay baggage fees and select seats during your booking sessions.
if you are traveling internationally, you will need a passport to confirm the reservation.
Step 11
After booking your ticket, you will get your receipt and ticket confirmation has sent to your email id. If you don't receive, contact your airline.
You download your ticket from email id and print booking confirmation and other necessary documents.
You must take all documents to the airport with you on the day of your flight to avoid any questions or problems with your booking.
Always follow "24-hour rule". Check the prices one last time within 24 hours of booking your flight. If the fare has decreased, call the airline and rebook the flight at the lower price but with no penalty.
Some other How to Guides: