Hacking imessages of a person from your phone is possible with recent technology. If you want to keep an eye on a person, you can hack his/her iPhone to get valuable information. Learning how to see someones imessages without them knowing is essential for cautious employers and concerned parents. Your children may have some secret friends for specific purposes.
By hacking iPhone of your child, you can know plans of your child and save him/her from potential threats. Moreover, an employer finds it essential to hacking imessages of his/her employees to check their loyalty.
People have a misconception that it is impossible to hack an iPhone without perfect hacking knowledge.
It is not true because you can use hacker apps specifically designed for iPhone. Cocospy can be the right choice for you. The trust and support of millions of users prove that it is a reliable program.
The Cocospy.com Free Phone Tracker allows you to read sent, received and deleted messages along with their time and date. With this app, you can hack messages from WhatsApp, Instagram, and other social media platforms. You can hack messages of any iPhone even without jailbreaking it.
How to hack imessages with a tracker?
In the first step, you have to create your free Cocospy account.
Enter the iCloud information of target iPhone user into setup page of Cocospy and hack basic text messages. Fortunately, this function works without jailbreak.
Move to the dashboard of Cocospy and see the left-hand panel to select "Message" option. Hit this option to hack text messages or choose another "Social" option. After hitting this option, you can see a list of social media apps. You can hack messages of all these apps.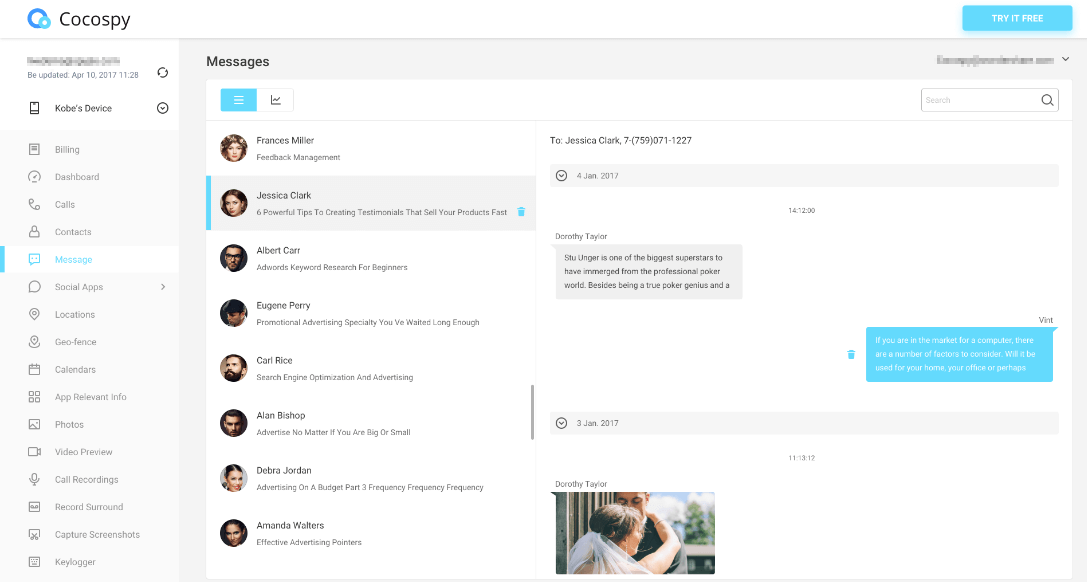 Interesting Features of Cocospy
Cocospy gets acknowledgement from popular platforms, such as Life Wire, Digital Trends, Tom Guide, Android Authority, Forbes, etc. Here are some cool features that make it desirable for everyone.
Free Online Call Tracker
Cocospy allows you to track outgoing and incoming calls remotely. With this feature, you can monitor phone calls of your child and prevent his/her communication with wrong people. Employers need this feature to protect their business from potential threats.
Track SMS
With spy app, you can see text messages of other people secretly. It allows you to check sent messages. The app works securely for employers and parents. You can remotely view outgoing and incoming messages.
Recommended : iPhone Hacking Apps
Track SMS feature will enable you to review the contact information of SMS senders and recipients.
Stealth Mode
With concealed spy app, you can find out the location of an Android device. Hidden spy feature allows you to find chat and SMS data. It helps you to see the location of a person. To install this app, you have to create a free account and track iPhone or Android phone of your child or employee.
Social Media Spy
Social media spy app allows you to check messages on Facebook, WhatsApp, Instagram, Snapchat and Viber. This program is necessary for homes with children and offices. You will get Cocospy alters after new uploads or changes on iCloud of targeted devices. With this feature, you can keep an eye on GIFs, videos, notes, music and photos on a smartphone.
Track Location of SIM Card
With a SIM tracker, it is easy to find the location of a SIM card. This tracker allows you to see the changes taking places with a SIM card. Tracker helps you to see the current location of SIM. Moreover, you can review calls, messages and other data.
Final Verdict
With Cocospy, you can easily hack iPhone messages for the protection of your children. Parents have to keep an eye on the activities of their children.
By tracking their messages, location, and other activities via iPhone, you can protect your child from harassment and cybercrimes.
Parents are responsible for the safety of their children, so they have to monitor offline and online activities of their children. Similarly, an employer can check the messages and call history of his employees to find a black sheep in the office.
Keep it in mind that precaution is better than cure, so monitor the smartphones of your employees to stay safe.