It is exciting to win any game. Besides the fact that earning respect from your peers comes easily, it motivates you to keep playing games that stimulate your mind and offer maximum fun. You can only achieve this by spending hours on behind the PC, laptop and other devices. Unfortunately, this can cause fatigue, backaches, and joint pain and other health complications. It is this point that many people resent the very activity they once fancied. The solution to the problem is investing in a good gaming chair. It improves on your performance because of the following aspects:
You Can Adjust the Chair
If you invest in quality products such as x rocker gaming chair, you are offered a chance to adjust it to suit your preferences and needs. The best outcomes are achieved after considering the following:
Seat height. The ideal height of the chair is determined by the length of the lower leg. When your feet are flat on the ground, the upper and lower legs must have an angle of 90 degrees in the knee. You can have larger angles depending on your comfort needs. Remember that having a proper contact with both feet to the floor is critical. The right height will help you to avoid strains and tensions in your muscles.
Seat depth. Adjust your seat in such a way that its length from front edge to the backrest is appropriate. The edge of the chair must never press to the back of the calves because it limits blood flow to the legs.
Armrests. By adjusting the armrests accordingly, the weight of your arms will not be distributed to the shoulder, upper back, and neck. Instead, your forearms and the rest of the body remains relaxed.
Tilt adjustments. Quality seats come with tilt adjustment, which ensures that the pelvis is brought slightly forward.
Backrests. A good gaming chair should have an adjustable backrest to offer you the necessary ergonomic support. If it is not adjustable, it must be made in such a way that it follows the natural curve of the spine.
Once you adjust your gaming chair, you will have avoided many health complications and hence achieve a better performance in your games. The following figure demonstrates the good gaming posture:
Source: http://medsmarthub.com/5-tips-to-fix-your-posture-and-reduce-back-pain/
The Chairs Are Comfortable
It is difficult to sit for hours on a regular chair without muscle strains. When gaming, you may be forced to find cushions or even stand because of the high levels of discomfort. Such disruptions will eventually lead to poor performance. The solution lies in finding a good gaming chair. High levels of comfort in the products are assured by considering the following:
The material making the product. A good material must be soft to touch. Note that the intense gaming moments will cause you to sweat and hence, the material must have a sense of breathability. It should also remain in good condition for a long time.
Cushioning. Sufficient cushioning must be offered so that you can sit for hours without strains.
The Chairs Are Appealing
Gaming chairs are designed to appeal to you and your guests. Your mood will change once you get to your gaming zone, if you make the right choices. Psychologists have proved that an individual's mood affects their performance. A bad mood can lead to procrastination and boredom. On the other hand, a good mood is associated with significance levels of productivity. You also have the courage to invite your gaming friends because the chair has a good design. In the process, you will learn a tip or two about winning in tough games.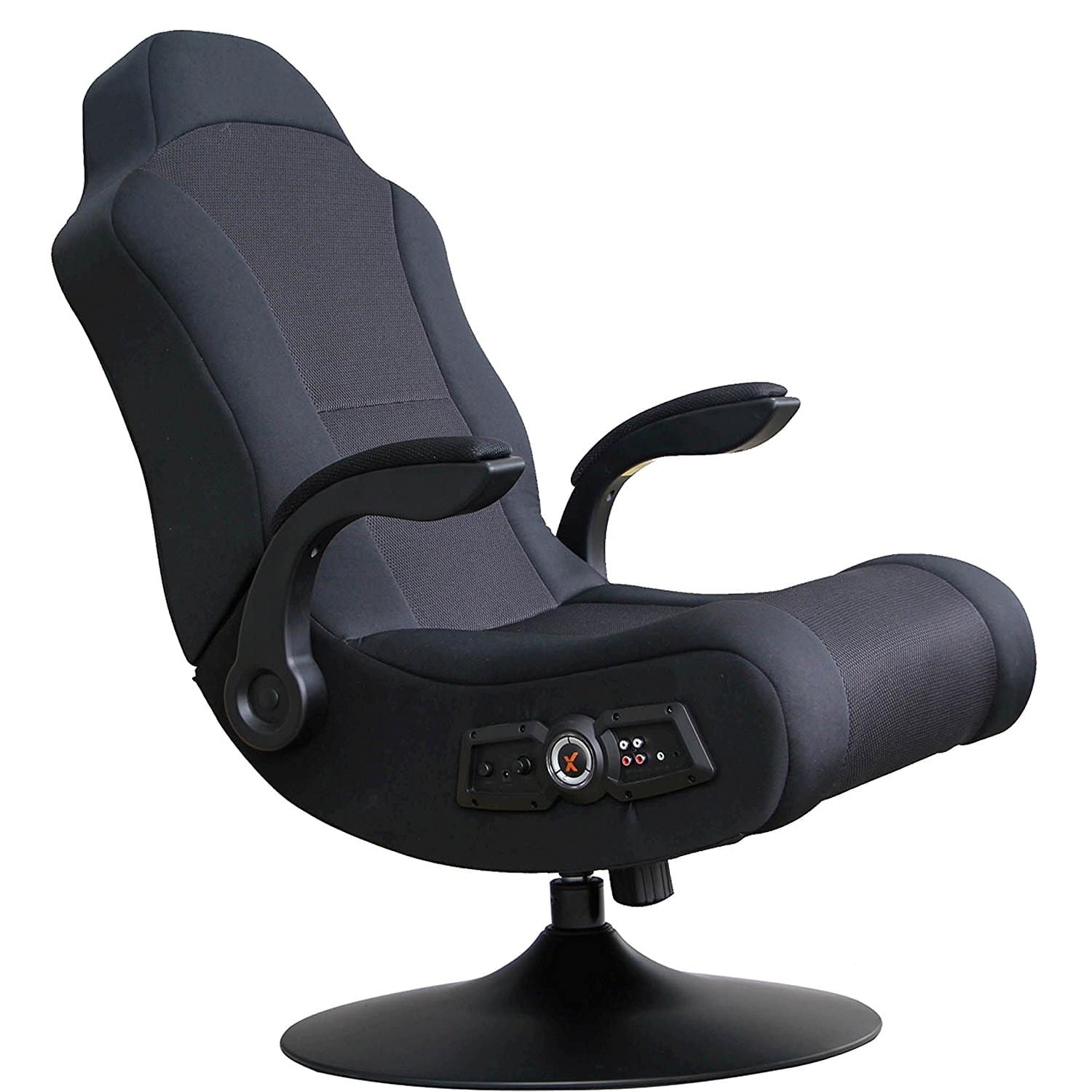 Source: https://www.amazon.com/Rocker-5142201-Commander-Audio-Gaming/dp/B002ANQAHW
Gaming Chairs Have Useful Accessories and Features
Modern gaming chairs come with in-built speakers and blue tooth connectivity. You also have pockets to place items such as snacks, drinks, and mouse among other items. It sets the right atmosphere for winning in games. Remarkably, some manufacturers are kind enough to customize the chairs to suit your gaming needs. You can get all you need in such a product just by contacting them.
Ultimately, there is a relationship between good performance in games and gaming chairs. Winning is inevitable if you go for comfortable, appealing and easy-to-adjust products. Proper online research can help you to find a design that works for you.