Looking for Best Free Video Converters, Keep Reading..!!
Video converters are like programs on the computer which change the storage format of digital video. In this process, the video is being recompressed into another format but without changing the video format.
This process is known as Transcoding. In this guide, We shared the Top 12 Best Free Video Converters.
There are available many types of video converters that you can get them online and can avail them free as well as by buying them.
Here's a list of the best free video converter software and free online video converters available:
Best Free Video Converters for Windows (8/10 Included)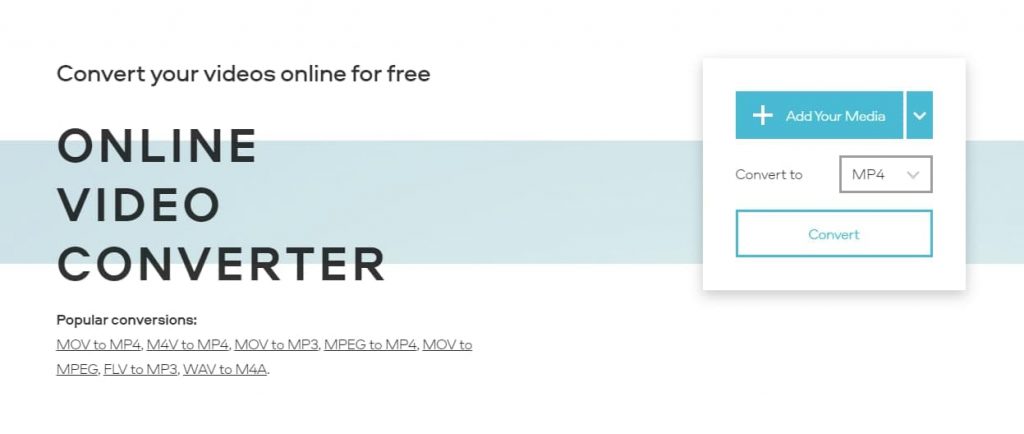 This is an online video converter that lets you convert any number of videos to different audio and video formats. The tool can convert to and from popular formats such as MP4, AVI WMV, MOV, and some rare video formats including VOB, TOD, and WAV. It has the option to choose quality, aspect ratio, codec, and other settings.

AVC or Any Video Converter is one of the Best Free Video Converters. We can handle many conversions to everything from DivX to VOB and too many other formats including 4K video formats.
It has a simple interface though it provides you with a lot of options to play with. AVC provides you with the following features:
Download videos from online video-sharing sites such as YouTube, Nico and youtube downloader mp3.
Allows users to create HTML 5 videos
Also, uses AMD APP encoder for X264/H264 video encoding.
Compatible with Windows/ Mac OS X.

Handbrake is an open-source video converter that can be used for converting multi-platforms .i.e. on Windows, Linux, Mac which converts video into MP4, MKV iPhone, iPad, Apple TV, Android, Windows Phone 8 from any other formats.
Handbrake carries the following features:-
Crapware-free installer
Uses third-party libraries such as Libav, lib vox and x265.
Also compatible with Windows/Mac OS X.
The Interface is sleek and well designed having lots of menu tabs.

In this free make video converter, you can convert your videos into desired formats and also creates music visualizations.
It is basically free and premium level app. During the installation process, you can try to install additional software, but you can skip it if you choose the Custom installation.
It has the following features:-
Can run on all Windows versions.
Good output quality
Tools to cut and rotate videos
It is compatible with Windows only

It is also free, safe, and easy to use video converter. It is also called a high-quality video converter because there is no adware, no embedded software, and no watermark on the output file.
It has the following features: –
It has 6X faster-converting speed compared to other converters
Drag and drop a video onto the program interface
Supports converting SD video into HD video
Can download videos from YouTube with the best quality and convert from Youtube to MP4.
Compatible with Windows 7, 8 and 10.

It is basically simple and easy Windows app that has been designed for casual users. It allows you to easily format conversions to a variety of formats, which has preset compatibility with different kinds of mobile devices.
It comes with convenient presets for Android, iOS, iPod, Sony PSP, and PS3.
Convertilla has the following features:-
It supports formats like MP4, FLV, MKV, MPG, AVI, MOV etc.
Specify video size and quality
It also supports integration with Internet Download Accelerator to automate video conversions.
Only compatible with Windows.
 
It is one of the most robust web-based Best Free Video Converters available. It has a streamlined homepage which has several conversion options and provides tools for converting video, audio, images, and other files.
It has other options for changing the screen size, audio quality, ebooks, and other adjustments or changes. Online –Convert has several following features:-
Provides the wide variety of format options.
No need to download additional extensions.
The site is stable and devoid of ads.
Compatible with web-based options

This video converter is the program which is loaded with terrific conversion features. Suppose if you want to batch process a number of AVI files to MPEG, files can be compressed for memory footprint.
You can also rip multiple videos and also encoding can be done which supports high-speed work. MediaCoder has the following features:-
Additional settings available .i.e. converts video to grayscale.
A+ grade and quality
Quick Sync, NVENC, and CUDA are supported here.
Compatible with Windows /Mac/OS X/Linux.
#9. Cloud Convert: Best free Video converters

It has been considered the best online tool for downloading simple and conversion files. Cloud Convert can handle 214 different formats.
The process in this conversion takes place in the cloud and additional setting can be tweaked from Web apps sparse. It has the following features that are mentioned below:-
Automatically drops your file in your Google Drive or Dropbox
Easily compatible with web-based programs
Conversion of batch files and monitors your folder.
#10. Wondershare Video Converter

It is a free video converter tool. Wondershare is the fastest video converter having the speed 30X faster than other video converter tools.
You can use it to download videos from many websites. Wondershare is compatible with all versions of windows. Wondershare has following unique features:-
Can easily convert AVI, MP4 MKV, MOV, FLV, 3GP, MPEG, and many other formats.
Supports all mobile formats
Fastest video converter
Can be supported by Windows only.

It is also known as free video converter tool. It also supports other formats like MPEG, VOB, PS, AVI, MOV, DV, MMC, REC, VID, and many others. Using MPEG converter, we can edit, trim and transport videos. MPEG Stream clip has the following features:-
Supports all mobile formats
Download videos from Google and YouTube just by entering the link
Videos can be played on your computer by using MPEG Streamclip
Can be compatible with Windows and Mac OS X.
#12. MP3 Downloader
MP3 Downloader is another online downloader that is very good and very fast when it comes to downloading YouTube videos to MP3 format. Download videos from online video-sharing sites such as YouTube, Nico and youtube downloader mp3.
By following the above written Top 12 best free video converters, you can choose the best video converter and can download videos in your wanted format and can stream them online as well as offline.
You can also play them on all Windows type, Mac OS X and on Android devices. So download your favourite video converter and enjoy your favourite videos!