Wondershare UniConverter has all in one conversion capabilities. It is capable of converting videos to more than 1000 formats at 30X faster speed without any compromise on the quality. UniConverter offers many features like download, edit and burn, add video metadata, transfer videos and many more features like this.
Here we look into another handy converter of Wondershare UniConverter, i.e., VOB (video object file) converter. VOB Converter provides various powerful features discussed below:
Conversion of VOB to MP4 and other more than 1000+ formats, i.e., AVI, MOV, MKV etc.
Provides the features to edit the VOB files by trimming, adding subtitles, applying effects and cropping etc.
Adding DVD content with any format to your computer.
Customize and burn the VOB videos with freely available DVD menu templates.
Can easily be used on the Windows (10/8/7/XP/Vista), Mac OS 10.14, 10.15, 10.13, 10.12, 10.11, 10.10, 10.9, 10.8, 10.7, and 10.6.
If you want 50% off from Wondershare Uniconverter Black Friday, Click here.
Part 1. Conversion of VOB to MP4 on Windows/Mac using Wondershare VOB to MP4 converter (licensed paid version)
The following steps provide details for converting VOB files into MP4 on windows, if a user is using MAC, then details guidance for them is also provided.
Step 1. Add/Import the VOB file to the VOB converter
In the first step, you download and install Wondershare UniConverter on the computer and launch it (licensed paid version). Once launched, then select the convert section on the top of the core interface. Here a pop-up window will appear for adding the video file which needs to be converted. Multiple files can be added easily in the converter as the converter aids converting VOB to MP4 in the group, as shown in the image below:
Step 2. Choose the output video format (in this case MP4)
In this step, you have to select the output format for your video conversion. For this, click on an inverted triangle beside Convert all files to enter the Format panel, there the format can be selected, select MP4 and choose the video resolution to ensure the output format.
Step 3. Instigate converting VOB to MP4 process
Once the file is loaded and the output format has been chosen, your file is ready for conversion. All you need is to click on the Convert All or Convert button exists at the bottom for converting VOB file into the MP4 file. You will get the notification, once the conversion is done.
Part 2. Online conversion of VOB files to MP4
The other solution for converting VOB files to MP4 format file is to covert it online as it does not require downloading or purchasing any software. For this purpose, Online UniConverter provides the best online solution for conversion of the VOB files to MP4 format files. The detailed guidance for this online conversion is given below:
Go to https://www.media.io/  using any browser.
There you will find Hit to add or Drag and Drop option for importing VOB files from your Mac or PC. After importing the files you wish to convert, click on Convert all files to and then use the drop-down button for choosing the desired output format, MP4 and other formats are supported by this converter.
In the last step, you are required to just click the Convert button to begin conversion of your VOB files to MP4 online while this conversion takes only a few minutes.
Part 3. Free VOB to MP4 converter for Mac/ Windows
Here is the third solution for the people who don't desire to purchase software, they can still enjoy the features of Wondershare as it offers free video converter allowing one to convert the files with different formats. Wondershare free video converter is a free version of Wondershare UniConverter that provides more than thousand audio/video formats, but the deficiency here is that the videos do have a watermark when converter using this converter. Those who do not mind this shortage, the following steps are provided for converting VOB files to MP4 or any other formats for free.
Step 1. Add/Import file to the free VOB converter
After installing the free VOB converter, you need to launch it. Once launched, select the Convert section exists at the top of the interface. Once it is opened, you have to Import or add the files which exist on you Mac/PC and you wish to convert them. Click on the Add files button in the windows of software then you will see a window gets pop-up probing to add a file, here you will add the VOB file into the free video converter.
Step 2. Select output format of the video
In step 2, you need to go to convert all files exists on the right side of windows and from there select the drop-down button to choose the video format you wish your video should be converted to. For instance, we select MP4 here. You can also choose multiple VOB files here using Merge all video option appears in the window.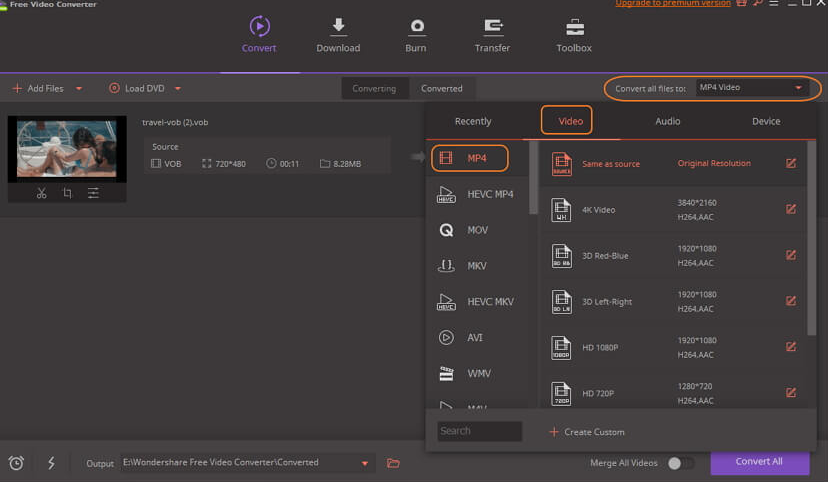 Step 3. Start converting VOB to MP4 file
Once the file is loaded and the output conversion format is selected, all you need is to just click on the Convert All button that exists at the bottom. The conversion will get started as soon as you click on the conversion button. The conversion process takes a few minutes and once it is completed, the accurate location of the files can be found by clicking on the converted tab button.
Key features of this free video converter provided by Wondershare video converter
Following are the few features of the video converter provided free by the Wondershare video converter:
It provides conversion of the files to all formats almost free.
It provides different functionalities like editing, enhancing and personalizing the VOB file before its conversion.
It downloads videos from YouTube on a single click.
The videos can be burnt to DVD with free menu templates.
It is very easy to use and comes with a very friendly interaction.
It comes with Wondershare player for all kinds of media files.