Every one of us loves to watch exciting videos online. With friends and families, the enjoyment increases further. However, it is not quite possible to always stay together. This is particularly true for large groups. As a result, websites like Rabb.it provided you with the opportunity to see videos online together. Consequently, you will be able to watch movies while chatting with them at the same time.
A large number of people, therefore, used sites like Rabb.it. However, Kast acquired the rights of Rabb.it in July 2019. Before that, the business had taken quite a hit. Most of the users started seeing Rabb.it down frequently. Consequently, their service came to a stop.
The question is Rabb.it legal or not did affect its closure. The investors in this business gradually withdrew their support.
As a result, the service had no option but to shut down. Here are some of the Best Alternatives of Rabb.it.
At present, there are many brilliant Rabb.it alternatives that you can use. They are provided below.
Best Rabb.it Alternatives
1. Kosmi
This is one of the Alternatives to Rabb.it, which helps to create a hangout space. You can use this to have accessible communication with your friends. This service is straightforward to use. There is no need for any signup or installation. Kosmi can be used for sharing browser tabs and screens. You can also use Kosmi for playing multiplayer games. Popular online games can be shared with a room for chatting.
Discord servers are also available. Thus, gamers can find Kosmi to be genuinely appealing. Since this app is welcoming developers, customizations are possible. Therefore, it is expected that the experience will be improved in the future. For providing the best possible experience, WebSockets and WebRTC technologies are used.
2. Togethr TV
Togethr TV is another alternative to Rabb.it. You will have the option to share movies in this service. Private rooms for a chat can be easily created. Files can be easily shared, and games can also be played together.
The text chat is well supported on this website. This service is becoming pretty popular as it is quite simple to use. YouTube videos are well supported.
3. Watch2gether
This is another of the Rabb. It alternatives that can be used for syncing and watching videos. Users get the option of creating private chat rooms. You do not even need to sign up for that. Other users can be easily included in the chats by merely inviting them. With this service, there are specific video streaming platforms that you can use. All of the popular streaming platforms are included, though.
This consists of Amazon Prime, Vimeo, Dailymotion, Facebook, and YouTube. Twitch streams can be watched live as well. Also, SoundCloud is supported. Therefore, you will be able to share music with friends as well. Certain things are different from Rabb.it, though. Videos can be searched by any user present in the chat rooms. However, apps like Hulu or Netflix are incompatible. This is because the third party accounts are restricted for logging in.
4. Syncplay
As the name suggests, this service is a beneficial syncing service. This program can be downloaded. Videos from popular platforms are easily compatible with syncing. Users get many useful options.
Playlists support the addition of new videos by users from multiple platforms. Thus, you can share your favorite online videos over your favorite online platforms. Synced local mp4 files can also be easily watched. Similarly, YouTube videos can be watched.
5. Simulchat
Simulchat is one of the websites similar to Rabb.it, and the functionality is quite the same. Video syncing can be quickly done with Simulchat. You can relate to the experience of watching TV in groups. There are restrictions, though. For example, premium streaming services cannot be accessed.
As a result, Netflix and Amazon Prime are not compatible. Users also get the option of sharing their videos. Also, this service is completely free for use. However, a user must create an account. The registration process gets completed in seconds and is quite simple. Usually, you can set up your room in minutes.
6. TogetherTube
This service is another of the popular Rabb. It alternatives. Used by many, multiple popular video streaming platforms are well supported. For example, streaming platforms like Vimeo, Dailymotion, and YouTube are all compatible. For music sharing, SoundCloud is available as well. Real-time music sharing and video watching can be done with the help of TogetherTube.
Both private and public chat rooms can be created at TogetherTube. The videos can then be voted. The policy for the next video that gets played is quite simple. The higher the votes, the faster a video will be played. There are multiple other useful features. TogetherTube is also known well for its uniqueness.
Users have the option to configure the chat room settings. There are many options available. For instance, you can restrict the activity of a particular user in your shared videos. Also, you can easily change the room name.
7. Airtime
This is also a popular alternative to Rabb.it. It is available on Android and iOS devices. Friends and family members can be quickly invited.
Consequently, you can share music and videos with them. Streaming content can be easily shared. Since Google Drive accounts can be synced, Dropbox contents can be shared too.
8. AndChill
This is another of the streaming websites like Rabb.it available at present. The ability to create chat rooms quickly makes AndChill a notable service in this list. The option of one-click video sharing makes AndChill even more useful. Users can see the available public chat rooms on visiting the website.
These rooms can be easily browsed. You get to know the number of people in each room. Also, the video currently being played will be displayed to you. Hence, you can decide which public chat room to join or not. For sharing content, this is the place. It applies to both acquaintances and strangers.
9. Synaptop
Synaptop includes the sharing of multiple videos. Movies can be easily watched and shared. Similarly, music can also be listened to and shared quickly through this platform.
Users have the option of uploading their videos in a quick format. Playlists can be easily created too. Free video sites can be directly streamed. YouTube videos are also entirely compatible with streaming.
10. Rave
This is another of the popular Rabb. This service is more like a center for media, which is web-based. However, the aim of Rave is different. Rave plans to be a popular social media platform. With the popularity it is getting, there is a possibility. Rave is also multi-device compatible. Hence, you can also share your favorite videos from your phone.
Most of the popular platforms are well supported in Rave. These include Reddit, Google Drive, Viki, Dropbox, Vimeo, and YouTube as well. Since Rave is compatible with mobiles, the popularity is even higher. Both Android and iOS users can use this service for video sharing without any issue.
In MyCircle.TV, users can easily set up their chat rooms. This service is straightforward to use. For example, no account creation is required to get the service. MyCircle.TV is web-based. The simple user interface makes this platform extremely easy to understand and navigate. The uploading of video files requires the user to have a myCloud account, though.
Google Drive syncing and Dropbox features are not present. MyCircle.TV also has a feature called Social Share. In this feature, social media platforms can be used. The aim is to invite your acquaintances easily over any platform. It is of no surprise why this is one of the most popular Rabb. It alternatives out there.
12. ShareTube
Here, both public and private chat rooms can be created easily. Videos can also be watched at the same time. Any user in the world can be invited to forming a watch party.
The user interface is straightforward to understand. Audio file sharing is also available. This service provides easy sharing of YouTube videos.
13. Netflix Party
Netflix Party is another of the Rabb. It alternatives. This one is particularly a browser extension. Mainly used in Google Chrome, Netflix Party is slowly gathering more and more visitors. However, the sharing requires all the users to have this extension. The installation of the Netflix Party in Chrome is a straightforward process. Also, having a Netflix account is mandatory. Once the extension is added, you can just log in to Netflix. That's it.
There is no more complicated process. You can select any video on Netflix. You can easily invite friends after that and form a watch party. The footage gets synced exceptionally quickly. As a result, visitors can enjoy the video in real-time. Since the extension is of Netflix, other streaming platforms are not supported. However, Netflix is not available in many similar video streaming platforms.
14. Explorii App
This app is entirely new in this streaming service. This platform is an all-in-one service where users can chat with each other. Message services are free.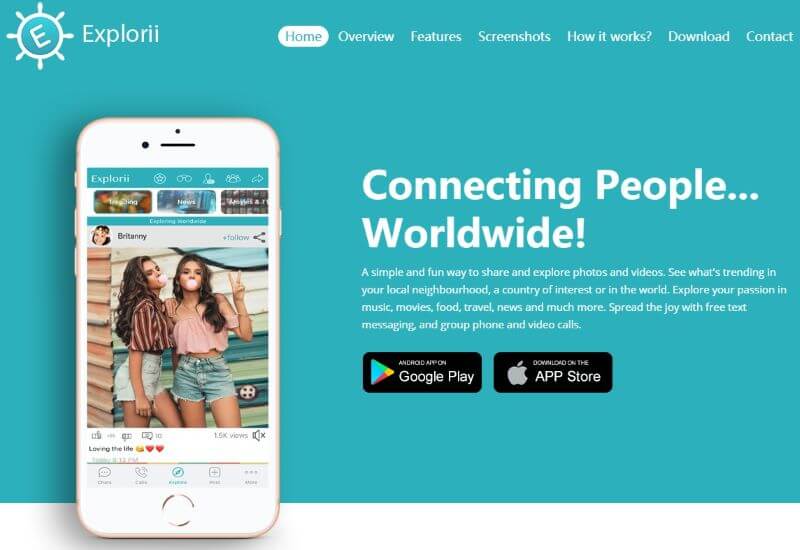 Calls can be done over the internet as well. There are many useful video sharing options. Private rooms can be created easily too.
Final Verdict
Here are some alternatives to Rabb.it which can be used easily. The service of Rabb.it may have stopped, but the demand didn't. Hence, many new Rabb.it alternatives were formed.