When we need to protect our Pc data from unauthorized access we need to use Encryption Software. Encryption Software will protect your digital information from unauthorized access by using cryptography.
Cryptography will not only protect information which is saved on a computer but will also protect the data that is sent to another computer VIA the internet.
We all know that devices are not encrypted by default we have to use particular encryption software in order to secure our data.
Best Encryption Software
In this article, we will discuss 14 Free Encryption Software's that you can use to encrypt data :
This encryption software offers the truckload of options that you are going to love once you get hang of Gpg4win.
This software is a graphical front end for GnuPG which implement the Open PGP encryption standard, which will help you to secure not only your data but also many more things. This software enables users to transport emails and files securely with the help of digital signatures.
If you are looking for simple software that can encrypt your files and folders, then you are going to love Axcrypt. This encryption software is easy to use and anyone can use this software.
It works very well with windows to compress, encrypt, decrypt, send, store and work with files. One must try this software as it's really easy to use and will do all the basic encryption for your data.
This software is a very popular file encryption software program that will encrypt data with top-grade encryption. It works well by creating the password to protect encrypted volumes and also encrypt entire disk partitions which include system partition and hard drive. One must give a try to this tool for data encryption.
A Disk Cryptor is for those who are looking for a robust and feature-laden disk encryption program. The Disk Cryptor is very easy to understand has really clean UI that will encrypt your data. This hard drive encryption software offers encryption of all disk partition including the system partition.
This encryption software will protect your data for unauthorized access. It is transparent drive encryption software for laptops, desktops and for removable media like USB. This software will protect your personal information and provides machine recovery, local self-recovery, and many other recovery options.
Bit-Locker includes selected editions for windows and is fully featured encryption technique. This software will protect your data providing encryption for entire data. Bit-Locker uses AES encryption algorithms in cypher block with a 128 bit or 256-bit key. It will use CBC for each disk sector, not for the whole disk.
This best free encryption software will encrypt a partition on USB flash drives. One can protect their files on USB with a password and strong encryption with the help of Rohos mini drive. This software will help you to protect your data from unwanted use and will allow you to work with a portable encrypted USB drive partition on any PC.
This software will completely secure your data with the surety of absolute privacy. The powerful 448- bit encryption helps to create 100 MB multiple encrypted drives on your hard disk. You can load and unload these encrypted disk drivers when you need them.
This disk Firewall or best encryption software will help your PC to protect against Virus, Spyware, and Trojans. It will protect your pc without slowing down your system just like an anti-virus. You will be able to access your data anywhere even if you don't have administrative rights.
#10 Windows 10 Device Encryption
This is a prebuilt Encryption Software in Windows 10 that will encrypt your drive. For encryption of a drive, you need to sign into a window with a Microsoft account.
It will upload recovery key automatically on Microsoft's server. Open system > About and after this search for "Device Encryption".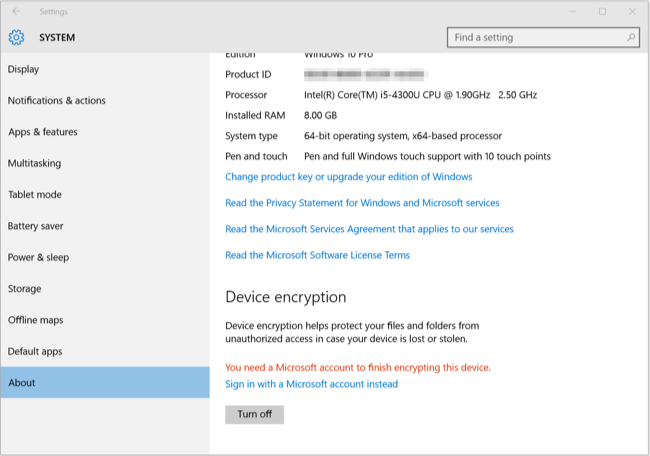 This software is known to everyone. It is used to compress big size files into small size. One can use this software as encryption software, you can compress a file and secure them with the help of password. This is a must-try encryption software which is very easy to use.
This is a free tool which is used to work on windows. Challenger software has some unique features like portable encryption, cloud storage encryption and much more. This software is available in two versions for private computers. If you chose free version then it has limited features on the other side extended version has many features that really help full.

A secure stick is a media encryption tool that use AES-256 to secure all the stored data on us or any other removable media. For this software, there is no need for administrator rights on your computer to use it. It will work for windows as well as for the Mac operating system.
This software uses the industry-standard Advanced Encryption standard in order to secure data and this available on several operating systems. While using with windows you need to click on right on the file then select AES encryption with the help of password after this AES will do the entire task by itself.
These were the best softwares that are used for encryption of data in windows. We have listed all top software that is very useful for all your needs. We hope that you will choose the best among them according to your own needs and requirement.
Related Articles :