MacOS is designed to do your desired works as fast as possible. And also one thing has to be mentioned that it is really well-optimized. But after months of use and abuse, sometimes slow down the operating system. The reason behind it can be the leftover files that came from the uninstalled apps and the junk files stored up in the background here and there. Because of this, your Mac's performance lacks while the operating system feels very much slower than it should be. In a situation like this one thing you can do is use a Mac cleaner and performance booster app which will most likely fix these problems.
So the first question which will go through your mind is which Mac cleaner you should use? There can be some names going through your mind which such as CleanMyMac, Onyx, Smart Mac Care, etc, and already considering going for anyone out of them. But we did a research for you for this and found out a very unique cleaner which has a good number of advantages.
Introducing BuhoCleaner (Mac)
Buhocleaner is not a Mac cleaner like others which we generally get to see on market. It will do your job in the simplest way. During our research, we did use many Mac cleaners but BuhoCleaner seems to be the easiest one to use. Even the interface looks very simplified but using it you will be able to know how powerful this app is and how amazingly it does its job.
BuhoCleaner's speed of doing its job is very much impressive. You will find some other Mac cleaner in the market which will do your job at a speed like BuhoCleaner. But the main fact is nobody will do the job the way BuhoCleaner does. It just does it in a very simple way. Their main focus was the design of the app and the second was to make your Mac faster. They do not offer you any rubbish feature like others.
BuhoCleaner helps you to get rid of system and app cache junk which is swallowing a lot of space.
If you are using the latest version of macOS then BuhoCleaner is the perfect choice for you. You can be assured that it works great with it. Also, we did test BuhoCleaner on macOS Cataline and we could not find any issue. This app works 3 times faster than its normal speed if you are using it on one of the latest MacBooks with an Apple M1 chip.
Flash Clean
The main eye-catching feature of BuhoCleaner is to clean up junk in a second. To start this process, you will need to grant the app the required permission to scan your full system and find out those files which are eating up your storage space and lacking the performance of your computer.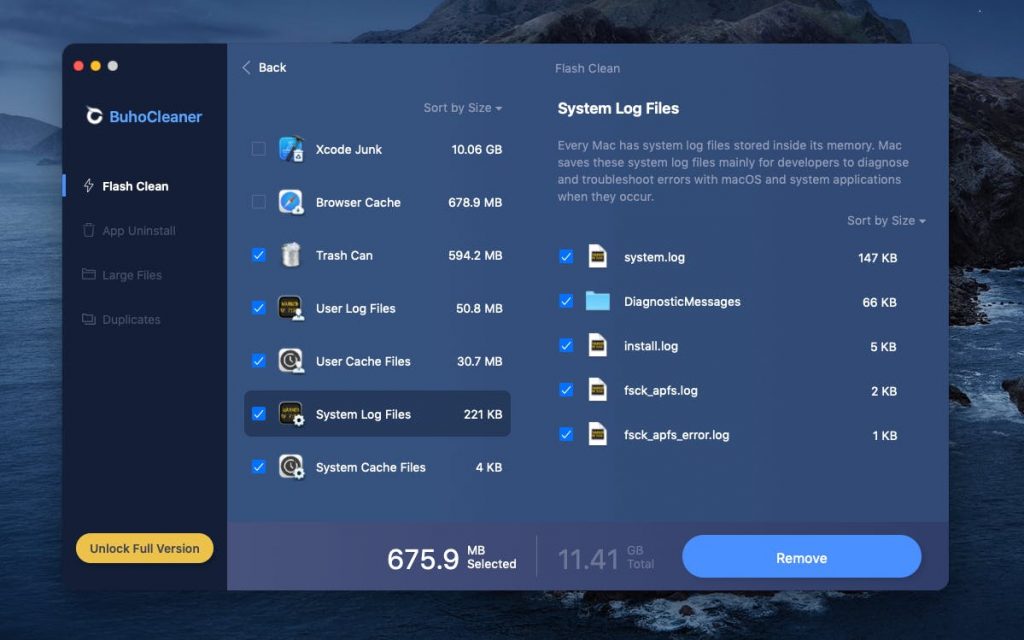 By just pressing the scan button it goes through your whole system and searches for all the system junk. It also detects the junk which is generated by the user. It will take less than a minute which means it will take a couple of seconds (For a 500GB SSD). It shows how fast BuhoCleaner is.
After finishing its scan, it will automatically show how much space can be regained and also gives a Smart-Selected recommendation of files that need to be deleted. Without a doubt, we can tell it is very safe to trust the Smart-selected option but if you want you can choose what to delete and what to keep.
Sometimes it can happen that you might want to keep browser cache and unused DMG files. Even though both of them take considerable space. If you are a developer, you will probably see that Xcode tends to take up a lot more storage than it should be. BuhoCleaner also fixes this by finding out orphaned simulators and other junks. Then BuhoCleaner will give you a chance to give a look and get rid of them.
Then after pressing the remove button, it will clean up your machine and will be able to notice the difference in performance.
App Uninstall
MacOS gives you a simple way to uninstall your apps by deleting and moving them to the trashcans. But that does not mean you have completely deleted them, some of the files stay. But BuhoCleaner fixes this problem for you.
If you install random apps every now and then. Then there is a high chance that you have a lot of unused applications which are taking a good amount of space.
BuhoCleaner finishes out these apps and will also let you decide whether to keep or remove them. There will be a date beside the app names which will indicate that when the last time you used the app.
Large & Duplicate Files Removal
BuhoCleaner finds out the large files automatically. But you should always give a look at the files which you are going to delete. Sometimes important large files can also be detected as crucial large files. It is just a one-click removal process. It will help you to free up your RAM with just one click by going through BuhoCleaner's Menu Widget.
And the duplicate files finder does its job perfectly. It found out those files which are on your device more than once. In my case, I often click on the download button more than once. This is why I find multiple copies of the same file. This takes a lot of HDD and also it is very difficult to find. But BuhoCleaner does it very easily. There is nothing much to say. It just scans my system and shows up the duplicate files on the display. Then it lets you choose whether you want to keep or delete it.
Startup Items
This option will allow you to find out which apps are using your processing power and RAM when you are not even using them. These types of apps slow down your Mac slowly. This tool shows up the apps and lets you choose whether you want to keep it enable or disable. From their website you can download the software.
Price
BuhoCleaner will cost you only $9.99 only (for a single license). Compared to other Mac cleaning apps it is quite affordable. Also, you will not need any extra money for any kind of upgrade. The most exciting news for you is that we are running a 50% off deal on the original prices of all our licenses.
If u are interested to buy only for yourself. You can go for the single one (1 Mac); Now you will get it for $9.99. But the original price of it is $19.99.

If you want to get it for your family, we are offering you a family pack (3 Macs); Now you will get it with the original price of 1 mac, $19.99. The original price of it is $39.99.

Also, we haven't forgotten about your business. There is a business pack where you will be able to use it for 10 Macs. Apparently, the price of it is 29.99 but the original price of it is $59.99.
To know more about the offers going on now, go through this link or you can check out this link to buy it.
Wrapping Up
BuhoCleaner is a perfect choice for your macOS. Because in terms of its features, price, and advantages I think you will not be able to find a better Mac cleaner than this. And the most important thing is it does your job in a very simple way.