The Internet is becoming a part of our life without whom we cannot do anything. In this advanced world internet and Internet speed is becoming necessarily crucial to the people. They depend on it to do their various day-to-day tasks. In the today's tech world internet has played an essential role in the advancement of technology. And the improvement in technology makes our life go easier and comfortable. But when problems like the slow internet or the lazy loading of the web pages take place, it becomes a crucial problem that needs to deal with.
To deal with this problem, we opt for a broadband connection or a faster internet speed. However, even if you have a fast speed as the time goes on the speed become slow and loading web pages take time, we blame our Internet Service Provider (ISP) for the slow speed, but we are wrong the problem lies somewhere else. The Problem lies in our own DNS (Domain Name System) server, which is taking time to process to the pages over the internet.
Before you start trying to increase your internet speed first you can check how fast it is by doing internet speed test. Well, there is a way to solve this issue by hacking it. But before that let's see what is and how does DNS Server works. Also how changing it would increase the speed.
Hack DNS to Faster Internet Speed
What is DNS?
Domain Name System (DNS) is used to convert Human Readable Language means the user-friendly URL into Machine Readable Language like 222.256.106.01, this translated machine language is our IP Address.  DNS server is a system that helps name a computer and network services which in turn decide your domains hierarchy. The higher in the hierarchy, the more top speed you get.
DNS hacking is not related directly to the fast Internet and is not at all related to increase download speed. DNS just influence the speed of the webpage that appears on your machine. Here is a small tip on how to speed up the internet by changing your router DNS.
First is to find the best server for your router. Many sites can help you find the suited server for you.
Now go to the Advance Setting in Router.
Before changing your DNS server address for later reference.
Now replace the DNS Server Address with the recommended address.
Save the setting. The router will then update these configurations and increase the browsing speed.
This is how you can change your Router DNS Setting.
Recommended – 15 Best Free DNS Servers To Faster Your Internet
Now Let's get back to DNS Hacking
Your slow browsing speed is not always the fault of your service provider. Sometimes it's the fault of the DNS Server. So, why use your Internet Service Provider (ISP) DNS Server? Change your DNS Server to a faster internet speed.
Here are the steps on How to boost Internet Speed using OpenDNS Server
What is OpenDNS?
OpenDNS is an internet company which provides free DNS resolution services. They have premium DNS services which help you load the page faster and avoid harmful pages. OpenDNS server has been offering its services since 2006 and has a vast database.
You can also find your best-recommended DNS Server here
How To Speed Up Web Browsing Using DNS Hack
How to use OpenDNS?
Now to get a faster internet speed, I'll tell you about free OpenDNS services that are one of the most popular free DNS services that were started to provide an alternative method to those who were discontented with their existing DNS services.
Open the Control Panel and go to 'Network and Internet.'
Now Open the 'Network and Sharing Centre'
Click on your connected Internet Connection.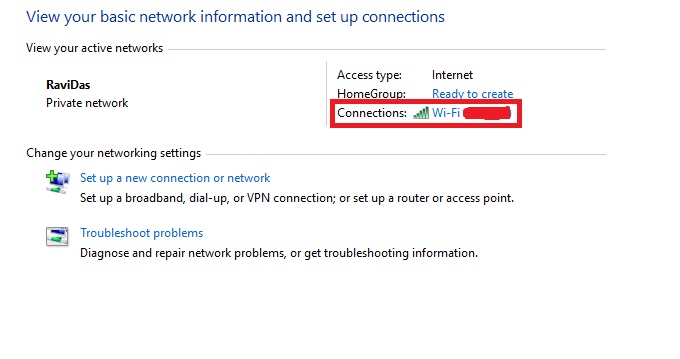 When you Click on the connected network, you will see a status window open. Click on Properties in that.
You will see a property window open. In Property, window find Internet Protocol Version4 (TCP/IPv4) and Select it, then click on Properties.
When the Internet Protocol Version4 (TCP/IPv4) property window opens, select the 'Use the following DNS Server addresses' option and enter the following address:
Preferred DNS Server – 208.67.222.222
Alternate DNS Server – 208.67.220.220
As we are becoming modern day by day, the security on the internet is also advancing. And so they have Introduced TCP/IPv6 into all network. Now as you have seen above the configuration of IPv4 but now even with it we also have to configure the IPv6 to complete the whole process.
Configuration of TCP/IPv6
Now after configuring TCP/IPv4 click Save and you will be back to the Property Window of Step 5 from the above. From there
Click on the Internet Protocol Version 6 (TCP/IPv4) and select it, then again click on Properties.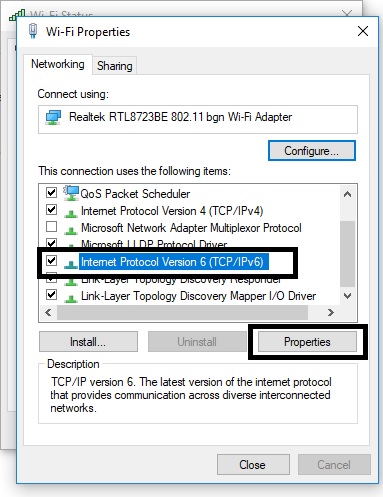 After clicking the property, you will see an Internet Protocol Version 6 (TCP/IPv4) Property Window. There select 'Use the following DNS Server addresses' and enter the following address
Preferred DNS server: 2620:0:ccc::2
Alternate DNS server: 2620:0:ccd::2
Click OK to save your configuration settings of DNS servers.
So, this was how you speed up or boost your internet speed by using DNS server. There are many other DNS servers out there, so choose the best-suited server for yourself. You can use Public DNS servers to boost speed. Using Google Public DNS servers is the best idea for that.
For configuring the DNS to the Google Public DNS servers there is no complicated way, it's the same as above mentioned steps. What you have to change is the configuration of TCP/IPv4 and TCP/IPv6.
So, the configuration that you have written in the Preferred and Alternate DNS servers change those to
Google Public DNS server for the TCP/IPv4
8.8.8.8
8.8.4.4
Google Public DNS server for the TCP/IPv6
2001:4860:4860::8888
2001:4860:4860::8844
Google DNS server and OpenDNS server are among the fastest DNS server available for free to the users. OpenDNS provide more facility and premium performance if you buy its paid services. If you need to know everything or every detail of your internet, then you should buy this paid pack. The Google Public DNS server is highly preferred among the gamers who play Online FPS games.
You can quickly switch between the Google DNS and OpenDNS for a Fast Internet anytime. You just have to change the configuration of IPv4 and IPv6 addresses.
Final Words
So above is the method for Hack DNS For Faster Internet Speed. By following the simple steps discussed above, you can easily boost up your internet speed and can have better browsing experience also by this you can search safely on your private internet. Must try the methods and have fun over the internet. Don't forget to share this cool post. Leave a comment below if you face any problem at any step.