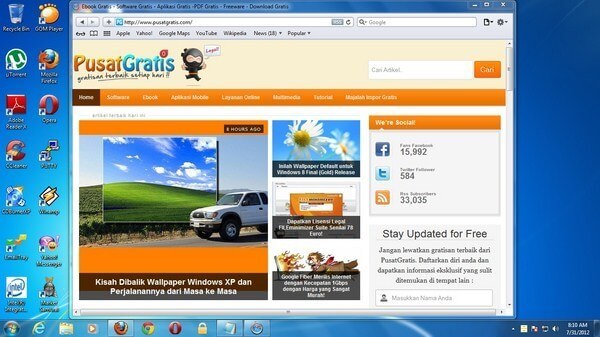 Undoubtedly we have lot of browsers that we can use on our laptops, PCs but we are only familiar with two three browsers where Google Chrome and Mozilla Firefox are at the top of list.
The reason behind why most of us browse internet on these browsers is there pretty cool interface that a non technical person can also use without any trouble. You can customize the browser the way you want it to be.
Now the question is, don't you think you should try some other browser to gain more benefits?
If you are thinking the same then I will only suggest Safari browser to you guys. Don't worry!! I will also give a lesson on How to Download Safari for Windows?
So below are important tips for Safari Download for Windows. Enjoy the post.
Learn How to Download Safari for Windows
Safari is a very secure browser provided by Apple Company and it comes with Mac OS and iOS operating systems devices. But later, the browser was made available for Windows OS too. It supports Windows XP or Later Operating Systems.
The happiest thing about Safari browser is that you don't have to worry about some annoying popup ads as this browser will let you stay in peace with them. This browser runs faster than any other browser without any bugs.
These small, yet obscure Windows tricks can make a big difference in your workflow—and save you tons of time in the process
Before using Safari Brower you must know its features listed below.
Features of safari Browser
"Bing" is the default search engine but you can change search engine according to your needs.
Fantastically supports HTML5 which includes full screen Video, Source and other things.
You can activate Reader mode in your browser to get rid of unwanted contents appears on webpage.
Secure than Google Chrome and Mozilla Firefox browsers.
Extensions are also available to advance your browser with some add-ons.
Steps to Download Safari for Windows
Open "https://support.apple.com/downloads/safari"
You can get the browser in different languages too. Observe the top right side "Downloads in other languages" option.
Choose Safari 5.1.7 and now click on "Download" icon to get the browser.
The file will start downloading after you click on "Download". It will be saved in the form of Winzipper file and consumes 48.4 MB file.
The download process will take some time to complete. After the completion, run it on your PC.
Now the browser starts installing on your PC.
After few minutes Safari will be installed for Windows. Now you can start surfing using Safari browser.
I guess this was the easiest way to learn Download Safari for Windows [XP, 7, 8, 8.1, 10]. If you find any problem, let us know in comments below.