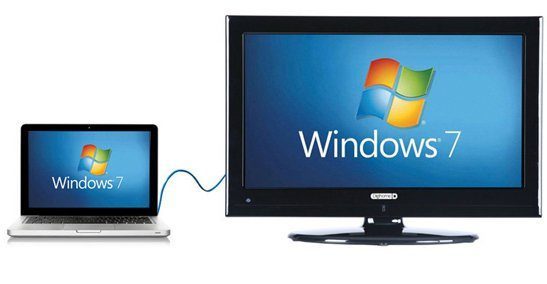 Have you ever gone through the situation where you had to ask "How to Connect Laptop to TV"? I know you might have searched for it many times because watching pictures, videos in big screen gives you a unique and wonderful experience that a computer and PC can never fulfil.
Well without taking much of your time I would simply start my today's guide: How to Connect Laptop to TV. The connection between Computer and your TV will only depend on what ports are available on your PC and TV.
Should I start now? Let's go and grab the simplest ways to Connect Computer to TV.
Also Read:
Easy Steps: How to Connect Laptop to TV
Before connecting your laptop to your TV, you must check the right cable for connection. Check both laptop and TV for the connections shown below.
Step 1: Select Cable
HDTVs offer its users multiple connections which resolve their "How to Connect Laptop to TV" issue. Many users might know that HDMI and DVI are the most common and highest quality options for connecting a computer to an HDTV. But there are many TVs or can say standard-definition TVs which allows S-Video connection, as a result of which a user may experience less sharp picture quality.
Let's talk about each connection one by one.
HDMI
Do you know High-Definition Multimedia Interface or HDMI is currently the highest quality connection available? If you are having an HDTV then you definitely will have this connection. Now come to the computer part with which you will connect your TV. If your laptop has an HDMI output, you will have to purchase an HDMI cable which costs little more than other cable options, but guys in return it will amaze you with superb picture quality. The good thing is HDMI cable carries both an audio and visual signal, so you won't need any additional cables.
DVI
Digital Video Interface or DVI is a very common connection which should have on your computer and an HDTV. For this you'll have to purchase a DVI male to male cable or a DVI to HDMI Adapter Cable only when your HDTV doesn't support DVI. One thing more this connection will only let you to watch videos, so for audio you will need a separate cable. Simply connect the audio cable from the headphones output of your laptop to the red and white audio input of your TV.
I am talking about HDTVs here, so don't assume standard-definition TV will also support DVI connection.
VGA
VGA, or Video Graphics Array, is another connection found on both computers and HDTVs. For that, you'll have to purchase a VGA male to male cable. Since a VGA cable only supports video signal, you'll also need a mini-jack connector or a mini-jack splitter with a 3.5mm audio RCA for transmitting the audio signal from your PC.
S-Video
There are many laptops and TVs which have an S-Video port. Although an S-Video cable is less expensive, it provides moderate picture quality. Like DVI you will need a separate audio cable if you want audio too.
Step 2: After Selecting the Cable
Always connect your laptop to your TV before turning on the computer because sometimes it may fail to recognize the external device.
Once you have connected both computer and TV via cable, choose the correct input on your TV and enjoy the unlimited pictures and videos on a big screen.
I wish now you would be able to connect your laptop to TV. If you have any query about this "How to Connect Laptop to TV" tutorial, let us know in comments below.