The digital music service, Spotify, has been in controversy ever since it failed to launch its IPOs as it was not able to make the IPO attractive enough. This created a new search term on Google i.e. How to Cancel Spotify Premium.
Spotify's IPO appeal was rejected by Wall Street, a few weeks back, pushing the service provider to save its already lost reputation.
To help Spotify stay competitive in the market, the New York Time came forward with a scheme that was sought to help NYT to increases its subscriber as well.
Under the scheme, NYT offered Spotify Premium account. As per the scheme, all those who subscribed for NYT for a small payment of $6.25 per week were provided with unlimited access to Spotify premium, a Spotify account that doesn't show up ads.
However, it has come to light that the scheme didn't work really well. This is quite evident from a report by search engine tracker SEMrush. According to its report, an increasing number of people are now looking up on Google to find out how to cancel Spotify premium account.
If are also one of them, here is a step-by-step guide to cancel Spotify premium subscription.
But, before going through the steps it is important to understand that the procedure to cancel Spotify premium subscription is different for those who subscribed to it on the browser and for those who subscribed on their iOS devices.
How To Cancel Sporty Premium on Browser?
Step 1: Overview your account by logging on to the Spotify
Step 2: While overviewing your account you will see subscription button on the left panel of the screen. Click on it:
Step 3: On the right panel you will see two options – update details and cancel your Spotify premium account. Click on the option to cancel your Spotify premium account.
Step 4: Clicking on the cancel your Spotify premium account option a screen asking for the reason behind cancelling it will pop up.
Select the option that best describes your reason. In the end, if you wish to keep the subscription then select it otherwise select continue for closing your premium account for good.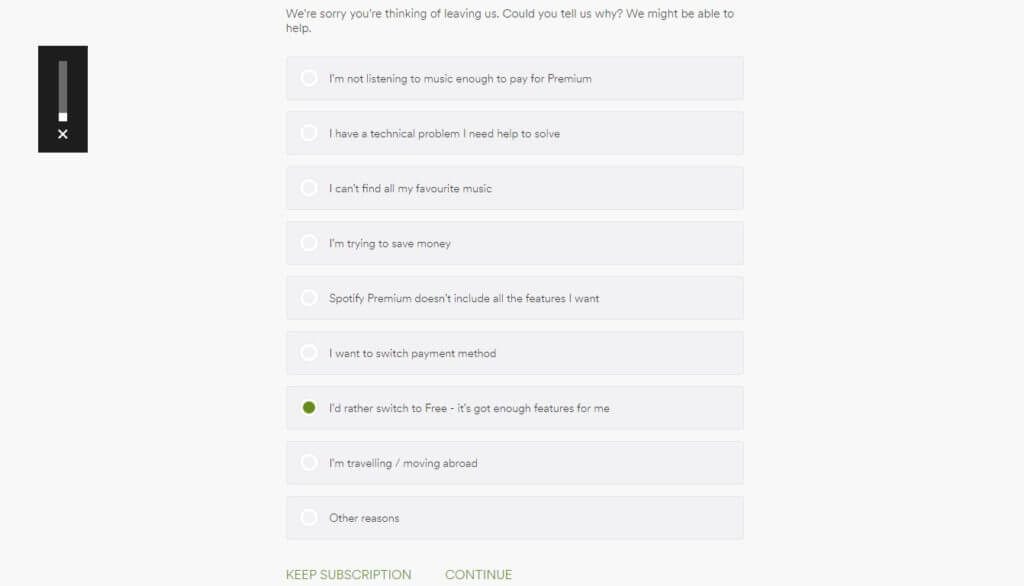 Step 5: In the final step, Spotify will ask you to enter your password to confirm your cancellation request.
Upon entering your password your Spotify premium account will be cancelled and an email confirming the cancellation will be sent on the registered email id.
How To Cancel Spotify Subscription On iOS Devices:
Spotify is also available on iOS devices. In case you made your Spotify account on your iOS device, you can also cancel it by following the simple steps:
Step 1: Go to the settings of your iOS device. Then click on App and iTunes Store. There you will be able to see your Apple ID simply tap on it for the next step:
Step 2: Tap of View Apple ID option and enter your password.
Step 3: Tap on the Subscription option and then on the Manage.
Step 4: Under manager, you will be able to see your Spotify Premium account with an option to switch off automatic renewal.
Step 5: That's it you're done. The subscription will be ended automatically at the end of the billing cycle.
Click here to read how you can get Spotify Premium for Free.
How To Cancel Spotify Premium Account On Android Devices?
The Android device users will have to launch Spotify website on their Android in order to cancel the premium subscription. The procedure would be the same as that of browser users.
No matter how you subscribed for Spotify, you will get a confirmation email on the registered email id. Having cancelled the premium account or subscription doesn't mean that your Spotify account will be cancelled.
You will still be able to view your Spotify account and will also be able to use its free services. You can always cancel your Spotify account, which may also delete all the custom setting related to your account.
Instead of deleting your Spotify account permanently, keeping it intact is advisable. It will enable to save the custom setting and enjoy the service whenever you feel like in the future.
Spotify premium subscription allows the subscribers to stream music without getting interrupted by ads. However, the premium subscription can cost $10 per month.
This can be a little expensive for those who don't stream music that often. For those who upgraded their free Spotify account to premium following the footsteps of their friends might find it tough to pay $10 for a service that they don't avail much.
It is easy to cancel the Spotify premium subscription on demand; however, its cancellation does come with certain drawbacks.
Cancelling the premium subscription will disable all its services. For example, one won't be able to stream music offline. Besides, one will also not be able to stream audio at a higher bit rate.
Premium subscription allows its subscribers to play any music of their choice by using their smartphone. Make sure that you are aware of all the services that will be withdrawn from you cancelling the premium subscription.