You might have noticed that you cannot transfer files from iTunes such as movies and videos to another device or play it on the TV. This due to the Apple's DRM restrictions called FairPlay DRM, which only supports M4V format videos. DRmare M4V Converter is the best way to remove DRM protection from various digital media from the iTunes library, such as iMovies, TV shows, music videos and so on.
What is DRM?
The increasing rise in technology has also increased the concerns of the copyright-owning individuals and organizations, more prominently in the movie and music industry. With each passing generation, the methods of copying are increasing, allowing digital media files to be duplicated unlimited number of times with no degradation in quality.
Digital Rights Management (DRM) is a new concept which entails technologies used for restricting the use of proprietary hardware and copyright works. DRM technologies enable content publishers to enforce their own access policies on content, such as restrictions on copying and viewing. There are a variety of files that come with digital rights management copyright protection from different sources like iTunes, Amazon, Google, etc.
There are thousands of different DRM techniques with different forms, almost each company has their own unique DRM system. Some of the most important ones are : Apple FairPlay, Microsoft, PlayForSure, PlayReady, etc.
DRmare M4V Converter: Review
Apple had introduced the M4V format for its iTunes, and it decided to safeguard it with iTunes FairPlay DRM protection. But owing to increasing customer dissatisfaction, iTunes had decided to do away with DRM protection in 2009. However, DRM in iTunes movies, TV shows and Extras still persists.
 DRmare M4V converter for Mac is the perfect solution for removing the DRM from any DRM protected video file that you might have downloaded from your iTunes library. It's a great iTunes video converter to crack the Fairplay DRM protection. It also works very fast and keeps the original quality. And let me tell you that it's perfectly legal to remove such DRM protection as per a recent ruling by a Federal Judge in New York.
It is a comprehensive iTunes DRM protection removal solution which will permanently remove DRM copyright from your purchased or rented iTunes movies, TV shows, iTunes Extras and music videos. You needn't worry about the expiry even in rented movies!  You can now keep your favourite TV shows forever and play them as and when you want.  It's lossless and it will also help you convert the DRM protected M4V files to a wide variety of formats like MP4, AVI, MOV etc. for any device. It's easy and simple to operate.
The functions to customize the videos are different for Windows and Mac versions. The Windows version is not so equipped and is only programmed for supporting the lossless MP4 and M4V formats. The Mac version is much more advanced and supports multiple formats, such as HD MP4, M4V, AVI, MKV, MOV, MPG, TS, TRP, MP3 and many devices such as iPhone, iPad, Apple TV, Galaxy, Motorola, etc.
Steps to Avail DRM Free Format for your iTunes Videos
Step 1:  Load the iTunes M4V Videos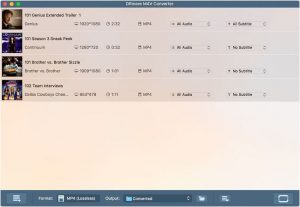 Click the "Add" button at the bottom left of the program to select itunes movies or TV shows that you want to remove DRM from. You can choose between both purchased or rented options. You then have to click "OK" to load the M4V video files from the drop-down list to DRmare M4V Converter for Mac. You can also import the iTunes M4V videos by dragging and dropping.
Step 2: Personalize Your Output Movies
After that, you can also customize various aspects of the videos you imported, such as the format, output folder, audio tracks and subtitles, etc. it provides almost all options for formats and devices you can choose from, including Lossless M4V, Lossless MP4, HD MP4, MOV, MPEG, WebM, MKV, AVI and Galaxy, HTC, LG among devices. In addition, for further customization, you can click the small gear icon on the format and customize the video parameters such as video codec, bit rate, size, etc. according to your own needs.
Step 3: Convert iTunes M4V to DRM-free Videos
Now you can click the 'Convert' button and apply the settings and start making your DRM-protected iTunes M4V videos to new DRM-free videos or audios. It usually works at 30x faster conversion speed than other converter softwares, but it would mainly depend upon the amount of iTunes videos you are converting.
Step 3: Play the DRM-free iTunes movies on any device
After the conversion is done, you should click the 'History' button to locate the converted DRM-free iTunes files. Then you can transfer the unprotected movies to play on any supported devices for watching without any restrictions.
Conclusion
To conclude, DRmare M4V Video Converter perfectly combines with the DRM removal feature for iTunes videos. It provides a convenient and legal solution to make the iTunes videos DRM-free and play them on any device. Some of its unique features include faster-converting speed, intuitive design, and better quality of output videos compared to other softwares.
However, it has some noticeable drawbacks. It does not support to import audio files and convert them. And the Windows version is also not fully equipped and does not support a lot of output formats which are done by Mac.
But hopefully, these drawbacks will be taken care of in the future. And as of now, it is the most reliable and advanced video DRM protection removal and M4V converting tool for iTunes videos available in the market.