Let's admit it! Invoicing can be really painful. Generating invoices, sending them, and then following up on the unpaid bills consumes a lot of time. It is hectic and stressful as well. Moreover, recurring invoices can actually cost you money. Therefore, online invoicing software will help your small business a great deal. Hence, we have listed the top invoicing software for small businesses. This is the ultimate guide, and we hope we will be able to help you. 
What is Invoicing Software?
So, invoicing software is a program that helps you to generate bills for your company's services and products you are providing to your clients. An invoice consists of all the services and products a client is purchasing from your company. It all states the prices of the products and the amount the client is obligated to pay. Hence, billing software creates an invoice that can be sent to your client through some app, email, or delivery method. 
So, when you use the best invoice software for your company, you easily keep track of the cash flow in your company, provide varied clients, personalize invoices, and process payments quicker. Thus, making billing management easier.
So, with a myriad of options available online, you might get confused as to which software to use. But, not to fret anymore, as we are here to help you with your choices. Go through the reviews of invoicing software and then choose the best one for your company. 
Best Billing Software and Invoicing Software for Small Business
1.
Zoho Invoice
Zoho Invoice is the perfect invoicing software for small businesses. It is a 100% free, online invoicing software that helps growing businesses and freelancers with invoicing, tracking expenses, and accepting online payments. It provides an efficient invoicing solution for generating and sending professional invoices within a matter of minutes. It helps businesses stay compliant, as per the norms and regulations.
Key features:
Effortless invoicing: Create and send professional invoices in a few clicks. Besides invoices, you can create quotes, retainers for advance payments, credit notes, and more.

Time tracking: Track time effortlessly and bill your clients for hours spent on your projects.

Automate payments: Integrate with multiple payment gateways so that you can collect payments on time, send reminders, and keep track of customers' payments.

Template customization: Choose from a gallery of invoice templates and customize them to fit your brand.

Multi-currency and multi-lingual invoicing: Invoice in multiple currencies and communicate in your customer's language
Why Zoho Invoice?
Zoho Invoice supports 30+ reports to give you detailed insights into the financial health of your business. It also enables clients to view and accept estimates, pay their invoices, and download statements via an interactive customer portal. It is 100% free, with no hidden charges.
Key features:
Data: When you are using Zoho, you can easily and securely keep your data in external and local data centers. If you lose the data, do not worry. You can retrieve it at any point. Also, automatic data backup is available.

Decimal Precision: With the help of decimal precision, Zoho can easily record foreign currency invoices. Customers and clients can easily online at any time. 

Business Information Review: Business information can be easily checked at one glance on Zoho. You can easily check services and products as well as clients making regular payments. 
Why Zoho?
Your client and customers can pay through any gateway payment they want to. You can always look at the statistics and data and create an appropriate invoice. The Zoho plans range from $9 to $29. So, as per your convenience, you can choose your plan.
2. QuickBooks
Quickbooks is popular invoicing software. It efficiently consolidates the company's accounting data. Therefore, you can easily track all the transactions proficiently. Moreover, it ensures you access to customer and sales management modules. So, you can handle and manage all the invoices in all places. 
The key features include:
Seamless integration: QuickBooks has the support of over 180 third-party integrations. Therefore, it provides strong integration capabilities with your company's current applications. 

Automatic reporting: With Quickbooks, you lucidly customize reports, schedule the reports in a calendar, and send them to your stakeholders as well. For efficient customization, you also get handy with business-specific templates. 

File Manager: It ensures version control. It also stores your client's password protectively, organizes the files, and easily extends and upgrades clients' business files.
Why Quickbooks?
Quickbooks comes to you at a yearly package starting from $1091 to $1746. You will also get access to enticing reports through easily read consumer tools. Moreover, you also get to rectify wrong sales tax payments a2nd piles of data transactions. Quickbooks also consolidates multiple invoices in a single email and helps clients pay easily, and helps you keep the record properly. Therefore, if you have an emerging small business, then Quickbooks is a great choice. 
Don't Miss – Best QuickBooks Alternative for Small Businesses
3. FreshBooks
This is another one of the most invoicing tools. Freshbooks is capable of doing a lot of automatic tasks, including collecting payments and invoice reminders. With the help of insightful reports, you can track your company's finances. Hence, making smarter decisions. 
The key features include:
Tracking Expenses: As per your clients' requirements, track your expenses. Moreover, you can easily add an expense component to invoices as a section of reimbursement.

Mobile App: Freshbooks come with apps that will help you stay connected with your clients and remote teams. Moreover, you can easily take images of receipts to initiate invoices on the go. 

Financial Reports: On Freshbooks' dashboard, you can easily see all the important financial reports. Moreover, it also provides instinctive reports along with color-coding. Therefore, this helps you from the number-crunching headache.  
Why Freshbooks?
Freshbooks has a straightforward user interface. Therefore, you will hardly face any problems while working on Freshbooks. To track expenses, you can also add an expense tool to your bank account. Moreover, you can also track late payments. Allow you to create invoices in multiple languages. 
Freshbooks come in multiple packages as Lite, Premium, and plans. Per month the packages range from $15 to $50. This is undoubtedly one of the best invoicing software.
4. Wave
Wave is a powerful invoice software. It is the best free invoicing software for small businesses. Within seconds you will be easily able to create and send invoices to your clients. We've also come in Android and iOS apps to track invoice status. It is best suitable for companies looking for free invoicing software with notable features. 
Key features:
Instant Notifications: You will automatically get notifications whenever a client views your invoice regarding complete payments and due invoices. 

Tax Deduction and Calculation: Online pay stubs help you pay your team from anywhere you want to. You can choose direct deposits as well. Wave also simultaneously makes taxation provisions and regulations. 

Automatic Billing: With automated billing software, you save quite a lot of time. You can even send automatic reminders and notifications to your clients. 
Why Wave?
If you have a startup or small business running on a thin budget, Wave is a great billing software. It has no hidden charges or paywalls. You can easily monitor your expenses by easily scanning bills and connecting your bank account to Wave account. Your payment data and invoice automatically sync. Your clients can also pay you online. All thanks to Wave's online payment feature. Moreover, you can switch between manual and automatic billing at any time point. 
5. Intacct
This is one of all accounting tools. It does not only generate invoices but also lets you receive payments at a much faster pace. Intacct helps in increasing the efficiency of your accounting team as well. It has automated invoicing processes and gives you reminders to contact your customers and clients for timely payments. 
The key features include:
Customizable Report: Intacct comes with basic charts, graphs, and dashboards. It provides you basic and relevant reports. You will also be able to omit manual computation from Excel sheets.

Ease of use: The interface is very lucid to use as well as highly functional. You can customize the dashboard and even create shortcuts for any task.

Limited Access and Control: Intacct is highly capable of tracking user movements within the software. 
Why Intacct?
Intacct is well-known for managing customer communications in an automated and structured way. Moreover, to avoid threats and security issues, it uses Oracle's reliable database. It also generates repeated invoices and sends them directly to the clients via email.
6. Xero
It is perfect for companies for generating invoices which can work from anywhere and everywhere. Xero comes equipped with automatic reminders, online payment options, and customizable templates. Moreover, you get strong security for your generated invoices. 
This invoice software offers a free trial along with an amazing customer experience. It is great for companies who are looking for free trials before making the final purchase. 
The key features include:
Integration with several tools: Xero is integrated with several third-party applications. These include Carbon Analytics, Kabbage, Stitch Bill, ZenPayroll, Deputy, Evernote, Vend, Labs, Mogul, Workflow Max, and Synergy.

Streamlined Transactions: To minimize financial fraud, Xero comes with two-factor authentication and a multiple-approval model. 

Inventory Management: Xero allows you to keep detailed records and track inventories. These records include descriptions, purchase costs, tax status, and committed quotas. 
Why Xero?
Through interactive charts, you will make efficient comparisons of your finances. To let your customers pay easily, it has the "Pay Now" option. You can easily send invoices from your laptop or smartphone. Therefore, you can work anywhere and on anything. Moreover, you get a 30-day free trial along with all the features. The monthly subscription starts from $9 and goes up to $60. 
This cloud accounting software automates your invoices, bills and taxes, which adds to its appeal exponentially. The customizable dashboard allows stress-free accounts management, and the inbuilt messaging feature keeps the entire team within easy reach.
The key features include:
Automatic invoicing: You can create accurate invoices with a single click, populating the fields from your online database. Email it to clients, and let them pay quickly through the 'Pay Online' button.
Multichannel payment: Your clients can pay via credit or debit using PayPal or Stripe. The software accommodates all your clients' paying preferences.
Budgeting: You get complete visibility of your cash flow. Learn your spending, stay current with your bills and discover whether you're operating at a profit or loss. You can then make smarter budgeting decisions.
Why ZarMoney?
ZarMoney streamlines your workflow and maintains accuracy by eliminating the need for manual intervention. You can conduct bank reconciliation with a single click and import transaction details from over 900 banks. It also keeps you updated about your account payables, so you never miss a deadline, whether for bills, rents, or debt installments.
There are different pricing levels on offer; choose per your requirements: $15 for a single user, $20 for two users (small businesses) and $350/month for 30+ users (enterprises). The cost is justified for this advanced invoice software.
8. Hiveage
Hiveage has a great user database of 50,000 users and works in over 140 countries. It helps you to create elegant and professional invoices while approving and accepting online invoice payments. It is best for freelancers and small businesses.
Key features:
Analytics: You can easily check the financial reports and health with its insightful reports. It also successfully generates immersive graphs and standard reports on receivables. Therefore, through these features, you can easily track your company's financial status.

Branded invoices: You can easily add your name, contact information, logo, and other company details to make your invoice even more attractive and professional.

Estimates: If your clients ask for quotes, it is not tough for Hiveage. You can send the quote and even receive payments on the same by turning it into an invoice.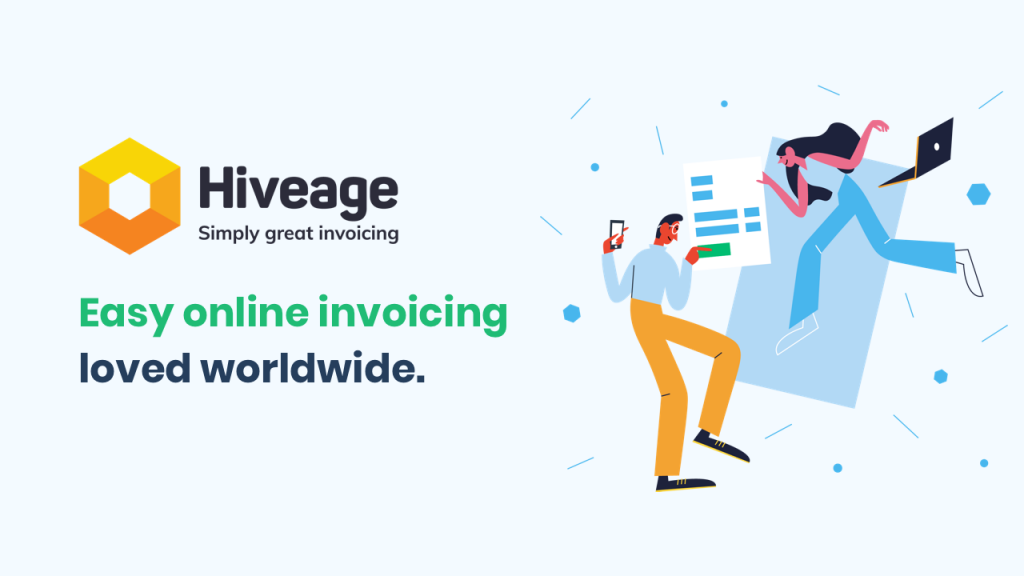 Why Hiveage?
Hiveage is integrated with all the top payment gateways. So, your company gets the benefit, no doubt. You can easily change subscriptions through automatic, auto-billing, and manual recurring invoices.  It offers 99.99% uptime and also conducts daily backup for your data. Hiveage packages start at $16 and go up to $42.
9. Bill.com
If you want to track the invoice payments, here's the perfect software for you. Bill.com contains milestones, including bill creation, the bill sent, approved, payment incoming, etc. Moreover, if you are looking for automated payments, Bill.com is at your service. 
The key features include:
Powered by ML: ML means Machine learning. This prevents the generation of duplicate invoices and automatically enters data as well.

Cloud-enabled: Bill.com allows for seamless collaboration with customers and team members.

Security: Transit data get end-to-end encryption through TLS or Transport Layer Security.
Why bill.com?
Pay bills efficiently with bill.com. You can also easily audit the trail to approve and enter. You can also cancel or edit payments as per your convenience. Therefore, customization is possible with bill.com. Bill.com starts at $39 per and goes up to $69 per month. 
10. Brightpearl
If your organization has an inventory, then Brightpearl will fit you perfectly. It manages your accounts for bookkeeping entries. For reporting purposes, it secures important data as well. It is best suited to retail channels.
Key features:
Marketplace connection: Brightpearl is integrated with Amazon and Shopify. So, you can easily manage and improve omnichannel from any location.

Centralized Inventory Management: Your data is kept secured, updated, changed in real-time. Therefore, you can benefit quite a lot from Brightpearl.

Automated Accounting: No more handling small bookkeeping entries. Brightpearl will handle everything from entries of payments to orders.
Why Brightpearl?
You can track the health of your finances easily. You can use all the features even on a free trial and then decide on purchasing it. Gain profitable insights with feature-rich reports. So, you can purchase Brightpearl ranging from $60 per month. 
11. ZipBooks
The last invoicing software to feature is ZipBooks. It works efficiently for your small business. Online payments from a myriad of different providers are acceptable on ZipBooks. It is best suitable for freelancers and startups. 
The key features:
Invoice Maker: It is a very flexible invoice maker. It can modify as well as create invoice templates as per your company's needs.

Accounting Facility: Gain easy access to invoice age, paid invoices, receivables, and many other things with ZipBooks.

Connect with your Bank Account: Connect the software with your bank account to keep up-to-date with data and information. Moreover, you can track every expense. 
Why Zipbooks?
It allows you to track every expense your team members are spending on a particular project. It integrates seamlessly with Google, Google Apps, Drive, and other third-party applications. ZipBook subscriptions start from $15 per month. Hence, it is quite cheap as well.
Summing up!
So, these were some of the top and popular invoicing software. If you are a freelancer or have just started your company, this software will help you excel in your business. This software makes your invoicing and billing of products very lucid and also provides you additional features. Therefore, we hope we have helped you decide on the best invoice software for your company.