Mangastream was the most famous manga scanlation website that has been taken off the internet this week. The Facebook and Twitter handle of this renowned manga site is nowhere to be found. The new domain gives you a blank with a message 'IP address not found.'  This short error message has brought distress and dilemma in the whole online world, especially for manga lovers. 
JaminisisBox had announced a few days ago that they are going to pull out the publishing of Shueisha WSJ manga (Weekly Sh? nen Jump). Shueisha WSJ manga (Weekly Sh? nen Jump) is a very famous manga magazine of Japan and around the world. It has got some manga series like Naruto, Black Cover, Dr. Slump, One Piece, etcetera. 
Mangastream was running for nearly a decade or more. Mangastream dominated along with OneManga, the online manga world. OneManga had been shut off four years ago. Since then, Mangastream flourished more and more and was the permanent savior for manga editor online. 
What exactly happened with Mangastream?
Mangastream or their staff members have issued no official reports just after the sudden shut down of the manga site.  People of Reddit researched to find the primary reasons for this abrupt pull off. At the start of this year, Sheishua, the writer of WSJ manga, had summoned Cloudflare in a USA court to get details about the Mangastream owner. This might have led to further research and verification, which can be a reason for the sudden close down of Mangastream. 
Was Mangastream illegal? 
Yes, Mangastream was considered as an illegal site. It was a scanlation website that provided scans of Magna comics. The website helped fans to translate and edit the comics into several languages like French, English, and Italian, along with subtitles. Artists initially published their Manga under issuing a company that owns the right. It led to a violation of intellectual property rights (piracy, imitation) of the publishers. Thus, bringing forth a significant loss for the artists and publishers. In a way, Mangastream was the infringing intellectual property of publishers such as Shueisha.
Mangastream alternatives
As because the most popular manga website, Mangastream, has been taken down, we will talk about Mangastream replacement. Undoubtedly, Mangastream was the best, but there are plenty of alternatives. Given below are the Mangastream alternative you can use to read Manga online for free.
1. MangaDex
MangaDex is a similar manga web site like Mangastream. You can use it till Mangastream down. It provides users with a lot of Mangas and different versions of each of them. There are colorful versions, fan-fictions,  alternative endings, and many crossover manga series. Adding to all these, MangaDex ahs supports more than 20 different languages, including Italian, German, and many more.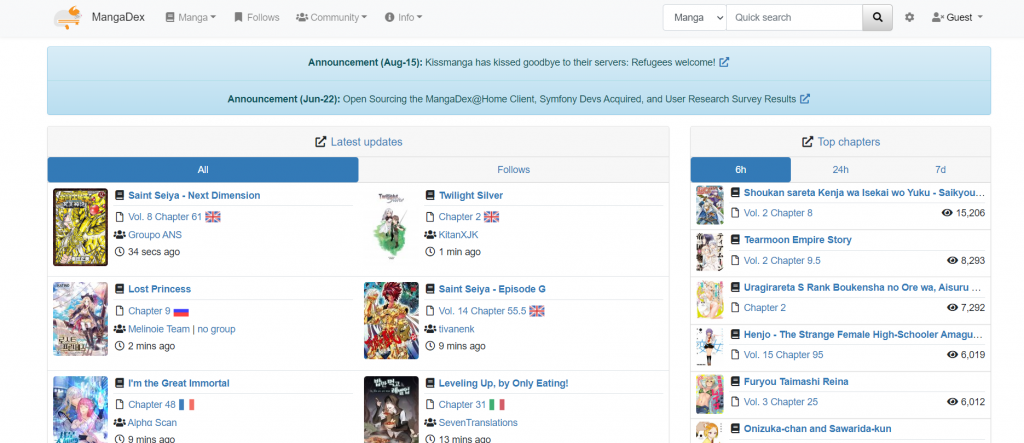 The website is a community full of passionate manga fans. This website allows you to make groups for specific genres or follow other categories of your choice. You can discuss mangas in its forum section with the whole community. The interface is okay. The website looks decent. MangaDex does not have a modern look. It follows quite an old theme, but it will not disappoint you. 
Website URL: https://mangadex.org/
2. MangaFox
Another great Mangastream replacement which will quickly fulfill your manga reading interest is the MangaFox. Currently, before talking something concerning MangaFox, we'd wish to tell you that its quality has given emergence to a lot of fake MangaFox websites. It is also the one that is ranking on top search of the Google search results, Mangafox.online. Now, the pretend one is additionally not that bad-working; however, its service isn't that sensible.
The original MangaFox concerning that we are talking is presently being operated via fanfox.net. The first MangaFox incorporates a color theme of orange, white, and black. The manga updates of MangaFox are so quick that the new Manga gets on the market on a similar day of its official unleash. It conjointly incorporates a smooth and clean interface for reading manga that has adaptation zoom for better reading. It conjointly has an associate degree app that gives even higher manga reading expertise. However, the app is not on the market on any of the official app stores like Google Play Store or Apple App Store.
Website URL: http://fanfox.net/
3. MangaHere
With a growing collection of mangas of like ten thousand mangas, you will be able to create ever-growing hunger for manga reading being happy. The web site keeps its URL address frequently changing because of its increasing popularity. This is to avoid DMCA cases against the website. MangaHere's scanned manga collection principally consists of Japanese mangas. It conjointly features a substantial quantity of Korean Manga, Hong Kong Manga, Chinese Manga, European Manga, etc.
The appearance and navigation system of the MangaHere web site is exquisite. Each manga assortment has been classified between entirely different classes and genres. Also, excluding scanned mangas, it's a passionate Manga Spoiler and News section. So the burning manga lovers will get updated to the newest and approaching manga and manga news.
Website URL: https://www.mangahere.cc/
4. MangaOwl
With its quality being best among the manga reader MangaOwl is a suitable Mangastream replacement. All thanks to its service of releasing WSJ sequence episodes before the official stream, the MangaOwl is one of the most straightforward Mangastream alternatives that you just will use. The web site includes an excellent user interface with a white and orange theme. Its ample manga information is therefore well-managed and arranged that nobody could get any drawback to find and read the Manga.
It conjointly includes a dedicated Genre section that consists of a total of fifty two completely different choices, starting from Motion to Yuri. Its user ratings out of ten and views per manga square measure a number of the minor, however essential things that continuously facilitate find sensible Manga. Excluding this, there are multiple features such as a lot of sections, just like the Must Scan Section, New Reading section, Latest Update section, preferred Manga section, etc. which can bind you to the MangaOwl.
Website URL: https://mangaowl.com
5. MangaPark
MangaPark is one of the foremost talked and used online manga scanlation websites on the market at present. It has an enormous fan base of itself. Its service for providing the most effective potential quality and updated content is a few things that ought to be appreciated. The MangaPark could be a well-established park for online manga reader.
The website features a clean and straightforward trying manga reading space with the choice of loading up to ten pictures per chapter. It is one thing that serves plenty of convenience to the readers as any of the manga readers don't like it to load every single page one by one for every chapter.
Website URL: https://mangapark.net/
6. MangaFreak
In this age of reading and streaming online, the culture of downloading things is losing its method day by day. However, MangaFreak is one in all those few places from wherever the user will not merely browse the Manga online; however, it can even transfer the full Manga to browse it with an online affiliation. This website is not thus well-liked among many of the manga readers however remains well-liked enough that there are some of the similar websites of this accessible on the net.
MangaFreak can never be underestimated. It is an overplus of fantastic quality manga scans accessible across totally different genres. Its look is additionally pretty tight while not such a lot muddle stuffed on one page. However, we must always say that there is space for improvement in terms of feels like more significant improvement of ads as there are plenty of overlapping ads there. One factor that is cool regarding the web site is its History section that perpetually keeps the history of your manga browsing so you will be able to get the previous read manga back with no additional worries.
Website URL: http://w11.mangafreak.net/
7. MangaPanda
MangaPanda has the foremost alikeness to the Mangastream. If you were taken with the appearance of Mangastream, then you may love MangaPanda a lot. At presently, as you enter the MangaPanda web site, you get access to the vast library of 1000s of high-quality manga comics. You will be able to access this alternate to Mangastream via your smartphone, laptop, or PC. You will be able to realize all types of comics of various genres like a journey, action, mystery, romance, thriller, and much of others.
Its online reading facility conjointly resembles entirely with the Mangastream. Besides that, there is a "Surprise Me" on the web site that will help you to choose a particular comic after you get confused between the pile of manga comics. This button indiscriminately selects a manga for you as per your previous interest in reading. It is one thing that makes it a stand-alone manga website.
Website URL: http://www.mangapanda.com/
8. Manganelo
Manganelo is a good scanlation website with a substantial database that many of the manga search engines use Manganelo. The web site features a massive quantity of manga comics that you just will scan from its numerous sections, just like the Latest Manga section, Hot Manga Section, and Newest Manga section. It has more than forty different genres flooded with loads of high-quality manga scans.
It has a simple and stylish look. Users can simply navigate throughout the vast content available. The homepage shows the most recent updates concerning the mangas and beside a bit dedicated section for many widespread Manga and New Manga. Its feature of vertical scrolling for reading manga makes it easier and straightforward to leap to the next page. It additionally features an operation of loading all pictures right away, which may be turned off to save lots of knowledge during reading mangas.
Website URL: https://manganelo.com/
9. Mangareborn
Manga reborn is a large manga community that is devoted to spreading the manga comics worldwide in a proper way. You will have to make an account on Manga reborn to scan any manga on its web site or read online. The KIt has a dedicated News section and a Forum section that are in continuous vital demand for a hardcore manga lover. Here you will keep yourself updated with the newest manga news and may additionally discuss something concerning the manga comics with a substantial manga affectionate community.
The website includes a pretty close look and with a white and maroon theme that within reason, appealing. Manga reborn is accessible with mangas in several languages, together with languages like German and Italian. You will chat with different members to collect characters' information or anonymous names. The web site is increasing its specific user and comparatively new.
Website URL: http://en.mangareborn.jp/
10. MangaReader
Another Manga scanlation web site that resembles loads with Mangastream in terms of appearance is the well-known MangaReader. It additionally has an old classic user interface with numerous English manga comics to browse. It additionally it also has that "Surprise Me" button for a random choice of manga comics. However, it is not that mobile-friendly but works sort of charm on laptops, computers, and PCs.
The Manga reading expertise is additionally just like Mangastream, which can or might not be likable by the readers. However, it a positive confirmation that each one of the manga scans and the manga comics is in prime quality with evident print and text written. It additionally has A-Z List, which might be helpful to find the manga comics by the first letter/number of their name.
Website URL: http://www.mangareader.net/
Concluding
Mangastream had been a great website with millions of followers. It is hard for manga fans to digest the fact that the site is no more available. There is no response from the official Twitter and Facebook handles.  Although there is no confirmed news from the official members, no one knows when will the Mangastream return or if it will return. The above websites serve as good alternatives to Mangastream. They are a free manga website. You can read the comic of your choice without any bugs and even discuss it with other manga lovers. 
Recommended: Best Torrent Sites To Download Your Favorite Torrents.