Video games have been an indispensable part of our lives since childhood days. Before some decades, we had the trend of hand and TV video games which is now replaced with Android and PC games. Animal jam has been one of the most favorites of kids as well as adults recently. The developers are creating some of the best games like animal jam to provide a whole level of excitement and fun in the gaming world.
List of 12 games like animal jam
The top 12 games like Animal Jam are as under:
Roblox is one of the most popular online games like Animal Jam these days. In this game, the player has to create various worlds where he can roam, race and fight with enemies. The player is given numerous blocks from which he can make different worlds using his intelligence.
There are many bodies and head given by which you can create your own personality. You can add your new friends and play with other players who have same interests as yours.
The next on the list of games like Animal Jam is Poptropica in which you can explore the beautiful world of islands. The players can change their facial features, skin colors, and hairstyles. It is an amazing online game for both adults as well as kids. There are lots of outfits such as jackets and many accessories which will give you a more elegant look.
If you love catching fish then this game is definitely designed for you. Fishao is the online game can do lots of other activities other than fishing such as decorating a home and dressing in different ways.
You can enter in a fishing tournament with your siblings and friends to enjoy more this game. There are wonderful graphics and animation which increase your passion for playing the game.
The amazing world is one of the latest online games in the list of games like Animal Jam and which is loved by all kids. In this game, you will enter in the amazing world which is surrounded by beautiful nature and scenery.
There are various tasks which you can do such as cooking, gardening, shopping and much more. Zing is a fantastic character in this game which comes in amazing dresses to amuse you.
Chit Chat City game gives the kids to create beautiful 3D drawings with the available game items. The kids can get a vast area to develop their drawing skills by creating artistic things.
This game can be played with many other players in your nearby location and you can even sell your created articles in the stores. The kids can create clothes or toys in the way they love.
If you want more games like Animal Jam for your pass time, Habbo is one such fabulous game. There is a hotel by name Habbo where there are numerous rooms where players can invite their friends.
It is one of the oldest games which developed in the year 2000. Habbo is also a social website where you can chat with your best buddies. You can also earn badges in the game.
Feral Heart is one of the most interesting games for game lovers. In this game, you can apply the avatar of wolf and lion and you change the colors of your facial features and also some of the body parts like tail, mane and body markings. You can get the players of similar avatars as of yours. It is free to play.
Secret Builders is specially designed for kids of age 5 to 14 years. The kids can get many quests and artwork contests in this game by which they can get more knowledge of art and education.
They get many dresses and accessories by which various avatars can be created. Your kids can know many things about arts, literature, and science. They also get many quiz contests which will help in increasing their IQ levels.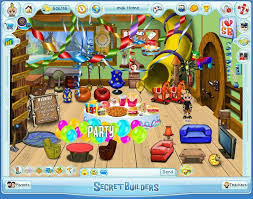 Pirate 101 became one of the most popular games like Animal Jam among the kids soon after its launch. It includes many worlds, battles, fights, and adventures. The players get many ways to reach their destination such as ships and magical Skyways. The players can select their favorite world which they would like to explore.
Become a wolf and live in Yellowstone National Park. If you love games like Animal Jam for your pass time, WolfQuest should be given one chance. This game includes many struggles which come on your way to live in the park.
You can take hints from the wolf experts. There are various episodes in this game. Enjoy the amazing graphics and scenery of Yellowstone National Park which is one of the major reasons for playing this game.
Panfu was launched in the year 2007. The game revolves around the Panfu Island. Explore various virtual worlds in the game. There are many amazing outfits and accessories which will help you to get a unique avatar.
There is a tree house which can be decorated by the players in various ways. The kids can also chat with their friends and there are also restrictive chat options which make it safe game for the kids to play it.
The last on the list of games like Animal Jam is Secret World Bear. This game takes place in Bear Island where you can make many bear friends and explore different places like castle and beach.
There are many dressing options by which can create your own bear. Furniture with which you can decorate your home is available. There are many beautiful cars which you can ride in the game.
Conclusion
These games give a lot of fun with knowledge and they have remained the favorites of many kids until today. The developers of these games aim at developing the skills of the kids by including many quests and contests in the games. Enjoy these games like Animal Jam and you can play them for free of cost.