Headphones are a pair of small speakers that can be worn around the head over a user's ears. The designing of Headphones with Mic which becomes much easier to use when you are standing in a crowd, exercising, playing games etc.
Top 10 Headphones with Mic 
It also helps in Video Calling with co-workers, friends, and relatives. There are many Headphones with Microphone for Video Calling is mentioned below:
VXi Blueparrott B350-XT
It provides the best sound quality. It is easy to use, very convenient, lightweight, comfortable, stable fitting, and durable. It has various features that are the following:
Clear Sound: Wideband audio & Xtreme Noise Suppression
Wireless Freedom & Security
Multipoint pairing & Audio streaming
Steam music or GPS directions to the headset
Charge via micro USB
The standby battery is up to 24 hours
Flexible microphone
One button controls ON/OFF, call answer/end & pairing.

Jabra UC Voice 550 Duo
It is the best USB office headset(Headphones with Mic). It is very soft, well-padded earcups that don't pressure on your ears so that it is very comfortable to wear for a long time. Many features follow as:
Best sound quality for voice calls as well as video calls
Great conference companion
Weight: 205 gms
Dimension: 18.8 x 14.7 x 5.6 cm
Two Speakers
Mute Function
Noise Protection
Sennheiser PC350 Special Edition
It is a binaural headset which offers block out of background noise, increasing concentration, efficiency, clear sound quality to both ears for understanding.
There is a Self-adjusting ball mounted speaker capsule allow perfect fitting to the head. There are many features which follow as:
Headset with leather earpads
Quick & Safety Guide
One carry bag
3 Coloured identified clip
2pcs Foam earpad
Microphone windscreen mounted
Precision positioning: 300o adjustable microphone boom
Unique comfort pads
Plantronics HW261N
This speaker has a binaural design, so that headset speakers cover both ears and gives superior sound quality. It supports all Plantronics amplifiers. The features of this Headphone are the following:
Noise-cancelling microphone
Lightweight, Outstanding Comfort & Reliable
USB-to-headset adapters
Used WideBand Technology
2 Year Replacement Warranty
SteelSeries Siberia V2
Headphones with Mic: The design of this headphone is solid and well-shaped. It has inline controls which are used for pausing your sounds, taking calls, adjusting the volume and a retractable microphone for all calls. It has various features that are mentioned below:
Good sound isolation
Mid-tones &
Headphone frequency: 18 – 28,000 Hz
Microphone frequency: 50 – 16,000 Hz
Cable length: 3m
Leather ear cups
Weight: 590 gms
Dimension: 26.9×23.9×11.9 cm
Microsoft Lifechat LX-6000
It is a Binaural headset which provides clear stereo sound. This headphone has not required any software for playing & plugging. It is sturdy, lightweight, flexible and comfortable. Many features are the following:
Noise-cancelling Microphone
Comfortable 270o Adjustable Boom Mic
Ultra-Wideband Digital Audio
Cable Length: 85.6"
High-speed USB 2.0 interface
In-line Mute & Volume Controls
Weight: 141.6 gms
Dimension: 6.14 x 6.91 x 2.36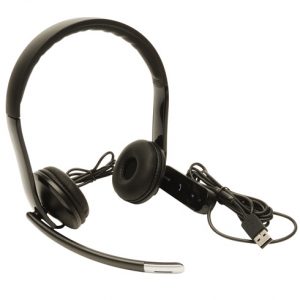 Logitech Wireless Headset Dual H820e
It is a wireless headset and identical design that is simple, good looking and professional. An inline remote allows you to control the volume and mute the headset as well as take calls. It is very comfortable to wear on the head over the ears. It has the following features:
Great sound quality
Excellent recording quality
Adjustable microphone boom arm
Stereo headset with two earpieces
ASTRO A50 Wireless System
Headphones with Mic: It operates at a higher frequency. ASTRO wireless mix amps provide clarity and range with less interference. It offers many features which follow as:
ASTRO Wireless 5.8 GHz Transmitter
0m USB Power Cable
5m USB Charging Cable
0m Optical Cable
DOLBY DIGITAL 7.1 Plug
Multi-System Compatibility
Inline Mic controls
Weight: 998 gms
Dimension: 22.9 x 10.2 x 22.9 cm
Koss CS100 USB
This headphone boasts a high-quality It communicates via an electret which combines with high noise sensitivity that reduces sound distortion for clear conversations. It contains many features that follow as:
Single USB Plug
Noise Reduction Microphone
Foam Ear Cushions
Frequency Response: 30 – 16,000 Hz
Adjustable Headband
Lifetime Warranty
Oxygen-free copper voice coils
Panasonic RP-HXD3W
The design of this headphone is clean, comfortable and simple supra-aural design. The soft and rubbery material is used for its padding. It has various features that are the following:
Inline remote control & Microphone
Solid bass response without distortion
Volume control buttons
Single cable adapter
Lightweight
Cable Length: 3.93 ft
Frequency response: 10 -25,000 Hz
Weight: 163 gms
Dimensions: 19 x 9.2 x 21.3 cm
Read Also :