With advanced technology, new cyber threats are emerging regularly. People now need their devices like PC, laptops, etc. to be secure so that their data is under protection. Cyber threats like viruses, spyware, ransomware, etc. can damage your devices with the data. So getting a cloud antivirus is the best way.
Now, what is a cloud antivirus? Cloud antivirus is an advanced antivirus. It has modern machine learning and artificial intelligence frameworks and algorithms. So, cloud antiviruses are better than regular antivirus. The software can easily detect any cyber attack belonging to the main area.
A cloud antivirus can also separate incoming threats and offer more extensive security coverage to protect your device and the stored data. It can also protect multiple devices and platforms at once.
For a business, data and device protection are essential. They have to store and deal with many kinds of sensitive data, which are fragile and highly influential. Such data and their devices need all-round protection to ensure everything is safe, and there is no threat from any external factor.
In this article, you can find the fifteen best cloud antivirus for business use. All these antiviruses are efficient and offer all-around protection. The list contains both free and paid antiviruses that you can consider. Read this article to the need to know more. 
Best cloud antivirus: Business Security to Stop Malware
1. Webroot
Webroot, the Colorado-based private American company, offers cloud antivirus for business and even for personal use. They offer their cloud antivirus in countries like Ireland, Japan, UK, Australia, etc. Their product is a top-notch cloud antivirus and has a strong reputation among businesses all across the world.
Webroot uses multi-vector defence systems in all online platforms like web browsers, emails, internal files, cloud storage, etc. The most prominent feature of this antivirus software is the "Threat intelligence Platform" tool.
It performs a scan of your device thrice per day, and it has an impressive score of 95%. With this cloud-based antivirus software, you can deploy protection in a scan without any problems. Moreover, you can also manage Webroot protection products as an admin from one management console. The software also keeps records of past scans and offers small and significant updates.
The company offers a thirty-day free trial to their potential buyers. You can choose any package from their paid services after the trial period is over. You need to purchase at least five endpoints for the paid service. Webroot also offers customization, and you need to contact them for customized service.
2. ESET Endpoint Security
The next antivirus software for business is from ESET. This Slovakian and Bratislava based company has offered premium antivirus software since 1992. They have special cloud antivirus software for businesses and organizations, and the ESET Endpoint Security is one of their acclaimed products.
ESET perfectly blends modern and advanced technologies like the vital shield layers and advanced machine learning in their ENDPOINT Security cloud antivirus to ensure you get full protection from malware. It can efficiently detect possible security breaches in three different levels- Before execution, during execution, and late execution.
Moreover, they have a specially designed ransomware layer with their antivirus that always checks for ransomware and keeps any malware at bay. Their software is user-friendly and easy to install. You also get guidelines and instructions while you install this cloud antivirus.  
ESET also offers a thirty-day free trial for consumers and businesses. You can buy both on-premise and cloud-based services from here. The price is quite reasonable and pocket friendly.
3. Malwarebytes
Malwarebytes, the cloud antivirus software, is true to its name. It has become one of the most popular cloud antivirus systems since its launch in 2006. It supports all types of platforms and cloud solutions.
Malwarebytes can scan your system to detect any dangerous and suspicious software. It also removes any possible malware after detecting it. The antivirus scans in batch mode instead of scanning individual files. Hence, scanning becomes faster and less hectic. 
It comes with a complete endpoint protection security solution. The security system includes layered detection technology and multi-vector protection for a foolproof defence shield.  
Furthermore, this cloud platform offers Malwarebytes endpoint protection through a unified endpoint agent. You can deploy this software instantly without any problem. A user gets a free trial, and the paid service is available after the trial. The software becomes fully functional for up to 100 endpoints. Overall, it is decent and trustworthy antivirus software.
4. Sophos Endpoint Protection
The fourth cloud antivirus in this list is Sophos Endpoint Security. It is a simple yet effective cloud antivirus from the renowned British security software company Sophos. The antivirus software is ideal for businesses and organizations that need total security.
Its most significant advantage is its simplicity. Sophos Endpoint Security offers prediction through a single management console. You can install this console in your organization server or keep it stored in your cloud. 
The antivirus automates its threat discovery, estimation, and response procedure to ensure the incident times decrease, and the tactical resources can focus on the strategic analysis. It catches possible malware before such threats can infect your device. That means your device performance is intact, and the device is also secure.  
The free of cost 30-day trial comes with automated malware clean-up and cloud-based admin and reporting portal access. You can request for the paid virus after the trial period.
5. Avast Cloudcare
Avast Cloudcare offers a practical and advanced cloud-based antivirus for small and medium-sized organizations and businesses. The antivirus Cloudcare offers a single management dashboard. You can connect all of your devices in that dashboard and manage everything from one device to get unified service. 
Their service includes protection against malware, antivirus, and remote access for troubleshooting, communicating with registered users, file transfer, etc. Cliducare actively monitors both external and internal security threats and eliminates possible threats. 
It also provides email protection & anti-spam service along with backup and recovery solutions. You get real-time security check reports and summaries to check what is happening with your system. Furthermore, Cloudcare can alert you through SMS or email to inform you about any threat and the repair.  You can change the security policy of all connected devices with the dashboard. 
It offers customized pricing according to the size of your business. In short, Avast Cloudcare is best if you need cloud antivirus for your small to medium-size business.
6. Panda
Panda cloud antivirus from Panda security has been in the market for some time. It is a free cloud antivirus software. So, if you're not willing to spend money on buying any paid service, you may consider Panda. Despite being a free service, it does not compromise in its features and protection from malware. 
Panda uses the cache of active malware and some advanced detection technology to find the malware present in your device. It also protects your device and the stored data. The most prominent feature of Panda is that it can work in offline mode. The cache folder comes with different types of virus signature files inside it. Soit can quickly detect a wide range of viruses and malware without any problem. If you can consider a few drawbacks like 40MB software size, it is worth trying. 
7. Comodo
Comodo is a complete cloud antivirus if you want protection against all types of malware. It can protect you from any malware and virus without features. Comodo has technologies like virus monitoring, auto-sandbox, behaviour analysis to detect and eliminate any possible threat to your system. 
The most significant advantage is its fast and straightforward configuration. That means you can download Comodo without any problem and use it with its full efficiency. Comodo comes with innovative C Viruscop technology to detect and block malicious files and possible threats instantly.
The containment engine and risk detection feature of this cloud-based antivirus makes it a formidable enemy of any virus. It is not a bulky software and does not consume too much space. Moreover, you get real-time supervision and constant monitoring to protect your device.
8. Kaspersky Endpoint Security Cloud 4.0
The list of cloud antivirus is incomplete without mentioning Kaspersky Endpoint Security Cloud 4.0. With this antivirus, you can protect your PC, laptops, and even smartphones.  It has already earned a lot of praise for protecting against viruses and malware.  
Another striking point is that you can use it irrespective of your business side. You can have a large scale company, a small startup, or even have a freelance service. Kaspersky Endpoint Security will provide you with all-around protection. 
It supports Windows PCs, Android, IOS devices, and even file servers. It can provide full proof protection for desktop and even mobile technologies. This also has different tools like password rules, insecure devices, and filter new texts and even calls, administers camera usage. Moreover, it can also lock or delete the data from any device without any problem. 
Moreover, Kaspersky offers a web console administration network and Bluetooth configuration for the internet. It is reliable and offers excellent protection to your device and the data stored in it.
9. Immunet
Immunet is the ninth cloud-based antivirus in this list of 15 best antiviruses for business. It is a unique cloud antivirus that comes with the ClamAV detection engine. The engine can scan offline systems automatically. In offline mode, the viruses and malware become disabled, and they might not get detected. But, Immunet's cloud-based antivirus software can detect the viruses in offline mode and eliminate them.
The feature is available through the settings section of the software. It would help if you switched on the scanning during online mode to avail of this fantastic feature. Additionally, Immunet also offers all-round protection to your device. It is a lightweight software and does not consume a lot of space, and works faster. 
10. Avira Antivirus for Endpoint
Next comes the Avira Antivirus for the endpoint. It is excellent for small scale businesses and offers all the features of a suitable cloud antivirus. Avira comes with exciting features like web filtering, fike server fortification, network shield, and application blacklisting and whitelisting. 
Moreover, you can manage and monitor your devices with Avira easily. It is easy to download and install. Being a versatile and user-friendly Antivirus, Avira offers a lot of scope for small businesses to protect their data and devices from cyber threats.  Then there are other features like license management, assorted mobile phone tools, remote deployment, and drive partition reports. With Avira, you can get all-round protection to keep your device in safeguard.
11. Avast Business Antivirus Pro
It is another popular cloud-based antivirus from the renowned company Avast. It is a fantastic product that is great for any business. In this cloud-based antivirus, you get tools such as anti-spam email protection, sandbox applications for total safety—firewall, antivirus, etc. Additionally, Avast Business Antivirus Pro offers Sharepoint protection, exchange protection with many other tools.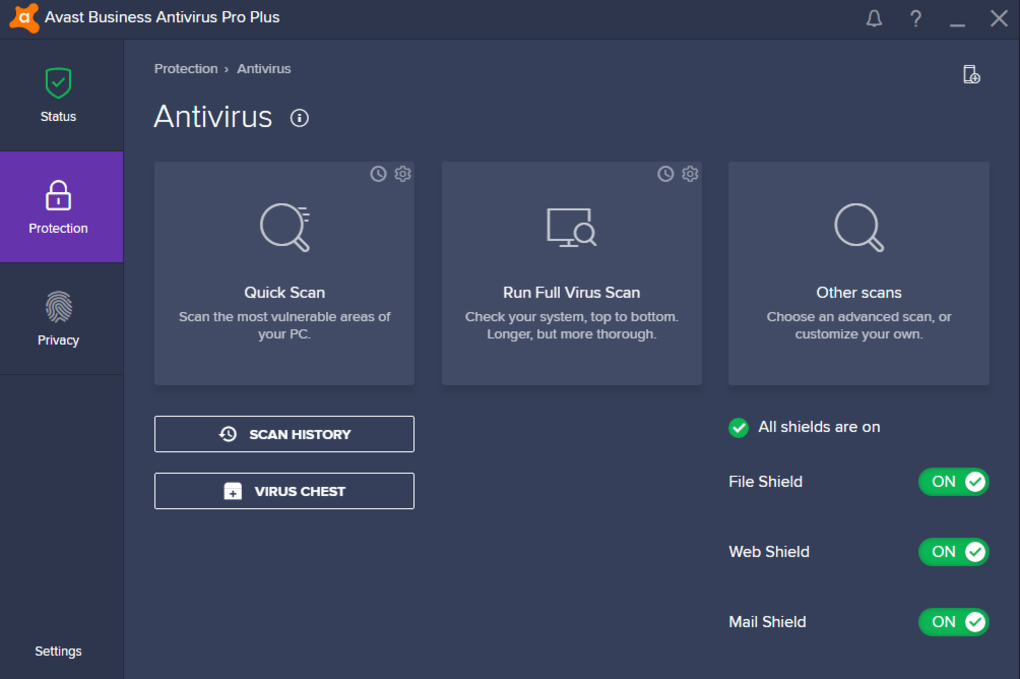 It provides real-time protection from viruses. Moreover, Avast Business Antivirus Pro is affordable and comes with different price packages. It is also user friendly and does not come with any complex functions. If you need a reliable cloud-based antivirus for your business within an affordable budget, it is a great option.
12. Norton Antivirus Plus
Norton is a well-known company that offers computer and internet security items. Their cloud antivirus is among the top-notch options that you can consider, and it comes with the usual Norton real-time threat detection and protection facility. So, you can keep your data safe from viruses and malware. 
Moreover, it can effectively detect existing and budding cyber threats and eliminate them. You also get advanced features like protection from online threats and unauthorized traffic.
Norton Antivirus Plus also works as a powerful password manager tool that can help you to store, generate, and manage your passwords with security. That means your password and necessary credentials like credit card and other card information are totally secure.
It also offers protection against data theft, data loss for your device. If you want to invest in an antivirus that also works as an anti-ransomware and anti-spyware, Norton Antivirus Pro is best. 
13. Bitdefender Antivirus Free Edition
Bitdefender antivirus is another free cloud-based antivirus in this list. It offers adequate protection against all kinds of cyber attacks without any charges. 
Bitdefender is a lightweight cloud antivirus that comes with an easy installation procedure. It is also user-friendly.
With this antivirus, you can protect multiple devices and the stored data. Bitdefender can detect viruses or malware with behavioural detection mechanisms. You get complete protection against rootkits ransomware, spyware, and zero-day exploits, 
There is also an on-demand scanning that performs background scanning. So, there is no time-consuming scanning and no more waiting. Additionally, Bitdefender gets automatic upgrades and free support to ensure you can use it without any disturbance. 
14. SecureAPlus
Individual business users can also use SecureAPlus to protect their data and devices from cyber attacks. It is a seamless cloud antivirus software that can protect even multiple devices at once. It is a reliable and robust cloud antivirus with adequate protection. You can get endpoint security with proper application control. Furthermore, SecureAPlus can protect your devices from any malicious item like viruses or malware, or ransomware.
It is a unique antivirus because of its AI. SecureAPlus offers Artificial intelligence to find and eliminate any existing or emerging threat from your device. It starts to work from the moment you install it. Furthermore, it has greater control over applications and offers extensive security coverage. 
15. 360 Total Security
If you need to choose a unified antivirus for both device and data protection, 360 Total security is best. It is a well-known antivirus with simple and robust algorithms. 360 total security will keep your device clean and protect it to ensure the system becomes faster and more efficient. 
You get real-time threat detection and removal features in it. Additionally, it uses intelligent behaviour monitoring to prevent data theft. You get data backup and restoration features along with sandbox, wi-fu security check, data shredder, privacy cleaner, multiple engine protection, and other features.
Wrapping Up
The list of top fifteen cloud base antivirus is complete. It contains antiviruses which are great for medium to small business and startups alongside antiviruses for the large scale business. Moreover, most of these cloud antivirus software come with attractive packages that you can choose according to your preference.
The cloud-based antiviruses are the most advanced antiviruses available in the market, and they offer foolproof protection.  All of these options in the above list are popular and come with a decent client base. They are also safe to use. You can easily opt for a free trial before buying one. 
You can choose anyone from this list and give your data and devices the much-needed protection. With a good cloud antivirus, your business and related devices and data will remain secure and in safeguard against threats.