Work is worship and it is very necessary to keep pace with all the work in a day. Some years back, we had physical calendars for remainders of a friend's birthday, office presentation or a marriage anniversary. But now, the technology has outsmarted those old calendars and introduced calendars on the mobile phones and tablets. You should get the best calendar app for Android devices to make the schedule easy and simple.
We have hundreds of tasks to be completed in a day. Due to an overload of work, we do not remember each and everything and so we use calendars to make the list of tasks which should be done in a day. Even if we forget a single activity of the day, it gives us poor results.
List of 10 best calendar app for Android
If you have decided to be perfect in your work at home as well as office, pick the best calendar app for Android for your schedule from the below list.
This best calendar app for Android was launched in the year 2011 initially for Android platforms. Later, it was also developed for iOS platforms. This app is used by more than 15 million users. It contains to-do list, AI assistant and calendar for the comfort of users.
It has many functions such as predictive text and voice input, list sharing, location-based reminders and many others. You can plan your whole week's or month's schedule on a calendar.
There is also a taxi booking service available in this calendar for booking a cab urgently. Those who have iOS devices can win gifts from Amazon and other websites.
The next on the list is the best calendar app for Android devices, Microsoft Outlook. It is one of the most popular personal managers available today. You can do an array of tasks on this manager such as emailing, note taking, contact manager and a calendar.
It provides various features such as clutter folder and emailing options. Create an agenda of whole day's activities such as lunch, dinner, office presentation and many other activities.
There are 10 languages in which this manager can be used. It will tell you when you have to do a certain task in the day.
CalenGoo is the best calendar app which you can download on any of your Android devices such as phones, tablets, Notepad and Book. You can keep a reminder of your appointments and meetings in this calendar app for reaching at the venue on time.
There are many widgets by which you can create a list of tasks by weekly or monthly. You can connect an event with the date by means of icons.
CalenGoo will also show you the birthdays and marriage anniversaries of your friends and family members. It also recognizes the voice and fixes schedule and events for you.
Google Calendar is a personal manager app created by Google. It is best Android calendar app for office employees and businessmen. It can be used on both iOS and Android platforms.
You can make the list of appointments and meetings in this app for making the work easier and simpler. There is also a start and stop time and "All-day" event. Google Calendar provides various attractive colors by which you can add the remainders.
You can also add various colors to events and meetings. We always want our list of meetings and events to be confidential. Google Calendar provides you the options of making your list visible only to you. It is a free app.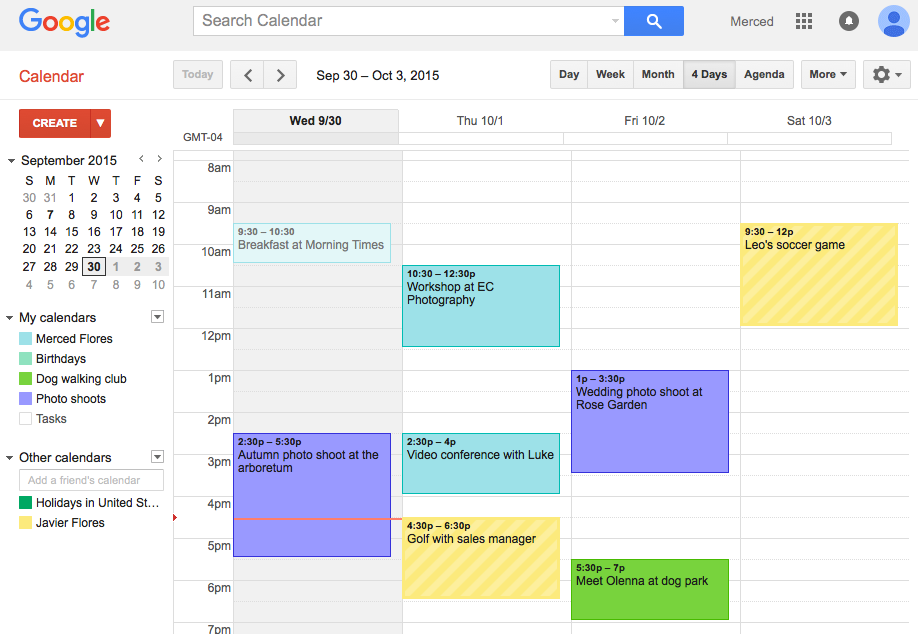 If you want a not so complex calendar for your office work, you can choose Simple Calendar App. It has an ordinary calendar in which you can make a list of all your important meetings, events, appointments, and tasks.
It also contains the week numbers so that you can count them easily. There are no permissions to use this app. You can also use bright colors to mark the important meetings and events. There are no ads in this calendar.
DigiCal Calendar is one of the most fantastic calendar apps for Android platforms. It has a beautiful design with smart features. You can add various sports, TV schedules, Premium holiday schedules to this calendar.
It also displays the weather and temperature of different countries of the globe. It also has a dark theme which makes it visible at night and also saves power. There are more than 42 colors which you can use for marking the list of events and appointments.
There are 27 languages in which event images can be listed. You can also manage invitations and give replies to guests.
At number 7, it is TimeTree- Free Shared Calendar which is the best calendar app for Android platforms. You can make a list of various events and parties by using beautiful colors.
You can send and receive invitations of your friends through Facebook Messenger, WhatsApp, and E-mail. There is also a communication section where you write your comments and add photos. It works perfectly on Android devices, PC, and laptops.
The app contains many widgets by which you can check your schedule. It is used by millions of users all over the world. You can easily view all the events and appointments of the month.
The next on the list of best calendar app is a calendar. There are many color themes by which you can mark the events and appointments. It is a very useful app for entrepreneurs and businessmen and they can store their private data, emails, and contacts.
They can create their own profiles. This app has tasks manager to keep a track of different tasks that you have to do in a day. It has no ads which can become a hurdle in the working of the app.
This calendar app provides you the feature of keeping remainders of the week, month and even a year. There is also a QR barcode used in this app.
Business Calendar 2 can be used by any college student, office employee or businessman. There are 22 app themes which you can apply to the calendar. You can even create your beautiful theme by combining the awesome colors.
It manages all your tasks smartly and you will not have to worry about forgetting the things. You can show or hide the calendar if you want. Business Calendar 2 app has an option for voice input. You can make the list of events as per week, months and years also.
Awesome calendar is the best calendar app for Android that can be downloaded on both Android and iOS platforms. It can be viewed in horizontal or vertical manner. You can easily store all the appointments or events on this calendar with different colors. You can also know the weather updates of different countries of the globe.
Conclusion
A calendar is a must-have app for any mobile or tablet as it keeps us informed each hour. We can quickly get the schedule of activities to be done during the day and there are an ease and comfort in working.  So, which is best calendar app for Android in the year 2018? You can go for the above ones for getting a proper work schedule.